If you've dealt with Realtor® Warren Reynolds of Franklin, MA recently, you likely knew he was pretty busy selling homes. But even Warren was in for bit of a shock when he took the time recently to check his production totals on the MLS:
In the last 12 months, Warren has listed or sold 25 homes in the I-495/1-95 region of Massachusetts. When you include his pending listings, that's over $9 million in sales in just one year!
That's a lot of homes!
$9 million of production volume in just one year is pretty impressive.  Here's a link to the homes Warren's listed or sold in the last 12 months: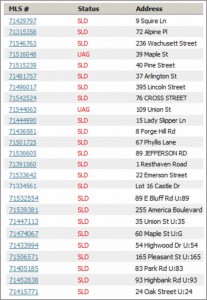 Quality as well as quantity
Warren works very hard to properly take care of his clients while he achieves stellar sales results.  It looks like he is doing a good job keeping clients happy despite being so busy, based on some testimonials he recently received:
We were very lucky to find Warren Reynolds as our realtor. He was very patient throughout the course of our house search and took time and due diligence to show us many homes. Warren also helped us find the best lender, and kept in touch throughout the closing date. Warren adjusted his timing to fit our schedule to show the homes.After moving-in, since we were first time home buyers, Warren did come over to our place and showed us many controls in our house. He also keep advise coming every now and then about city's activities and fun events happening around. Overall, we are very happy to have found Warren. If I am buying another property, Warren will be my man!Warren is a good realtor but more importantly he is a great human being!

Pramod Rao and Rashmi Viswanath
This is the second house Warren has sold for us in 10 years, so obviously, we have a high degree of confidence both in his professional skills and the friendship we have developed with him.Warren knows how to set a selling price that works for both sides of a home sale. He knows how to prepare a home for sale with a simple but direct technique: $1 of additional investment must net $1.30 of return upon sale of the home. This was true for us.Selling a home is like sailing a ship – you have to know the big weather picture of the real estate market, interest rates, etc.; the currents and shoals of the local real estate market where your house is located; and the small rigging details of your home to prepare it for showing and sale at or around asking price.  Warren is an experienced navigator in all three areas. We had complete peace of mind with Warren at the helm.The final "docking" of a sale – the offer, the counter offer, the accepted offer – is fraught with challenges. We were in the enviable position of multiple offers and Warren secured the best possible price and guarantee of buyer financing we could hope for, well beyond our expectations.

Jim and Joy Bencivenga
You can learn more about Warren Reynolds here.
If you are thinking of buying or selling a home anywhere in the I-495/I-95 region of Massachusetts, please contact Warren – he'll get the job done as well as take great care of you and your best interests!
Copyright ©2013 02038.com