Here are ideas for the whole family to get into the Halloween spirit and have some fun as we approach the spookiest day of the year!  Whether you stay local in Franklin, Mass or want to explore happenings across the broader region, we've got activities and events sure to raise a scream.  Just follow the links in the images below!
Halloween 2013 in Franklin, Massachusetts
Halloween 2013 events in towns around Franklin
Farther afield
Scarier events – not for the young ones!
For a day trip or weekend getaway
Salem has become the unofficial  Halloween USA headquarters!  The image below links to a 46 page booklet on Halloween-related things to do in Salem, MA.  Well worth the trip!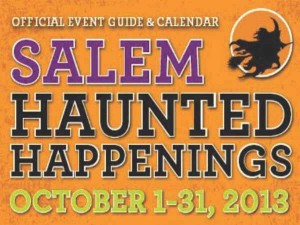 There are a lot of Halloween happenings in MA that I just could not include in the list above.  So If I left out your favorite event, I am sorry!  Please have a safe, fun Halloween 2013!
Copyright ©2013 02038.com