Anxious home buyers frustrated with the low housing inventory in Franklin, MA are getting some very good news midway through May: a surge of new listings in town means there suddenly is something of a backlog of single family homes for sale in Franklin!
6 month housing inventory in town
The inventory of available single family homes in Franklin, Mass has ballooned this month to nearly a 6 month supply.  That's a huge increase from the dreadfully low 2 month housing supply that bedeviled Franklin home buyers earlier in the year.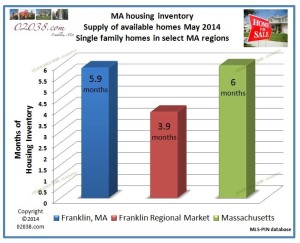 For about the last 12 months, the Franklin real estate market had been dealing with extremely low supplies of homes for sale.  The inventory of homes for sale in Franklin began to tighten in early 2013.  The supply of homes in Franklin dwindled to 2 months of inventory by the second half of 2013 and remained stubbornly low as the 2014 spring home selling season got underway.  Up until very recently it has been challenging for home buyers to find decent choices in Franklin!
Listing surge began in April 2014
33 single family homes in Franklin have been listed for sale on MLS-PIN so far this month.  That represents a continuation of a surge in new listings that started in April when a total of 47 single family homes were entered on the MLS.  May's half-month listings total (33) exceeds the full month listing volume of March (25), February (27) and January (a paltry 13).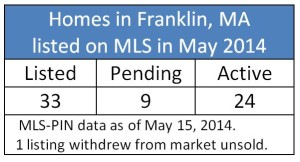 Some of these new Franklin listings this May were snapped up quickly by eager buyers, but other recently-listed homes have sat unsold for a while now. That's very good news for buyers in that now at least there are some homes to look at that are actually available for purchase!
Listings up in April and May, home sales volume down in early 2014
The chart below shows you how the first 5 months of 2014 have played out in Franklin real estate compared to the same time period in 2013: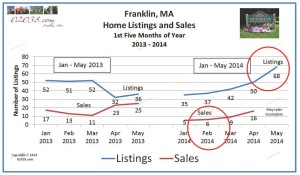 The two red circles in the chart highlight the differences year to year:  home sales volume tanked in early 2014 compared to early 2013 due to this year's extraordinarily harsh winter weather, while home listing volume rocketed upwards this April and May compared to last year's more restrained listing production for the same two months.
The key question moving forward is whether all the new home listings in Franklin in April and May will find buyers in a timely manner.  Open houses in Franklin the last few weeks have been very heavily attended, so the demand seems there.  If most of the new May listings go under agreement quickly over the next few weeks, we'll have confirmation that the local real estate market is powering ahead.  If a substantial number of the May listings linger unsold as we enter June, that may be initial evidence of a slowing of buyer demand.  We'll know soon, so check back with 02038.com for an update!
Copyright 02038.com