The latest report on Greater Boston home prices from the people who produce the Case-Shiller Home Price Index verifies that we are in the midst of a pronounced rise in MA home values.  The seasonally adjusted Case-Shiller Home Price Index for Boston ticked up another half a percent in February.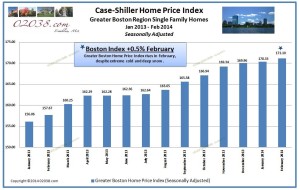 The Index is published monthly with a 2-month delay, so February's read on Greater Boston home values is the most recent data point Case-Shiller has provided.
Home prices up despite the weather
February's rise in regional home values is relatively small but is significant given the context in which it took place: the weather in February was truly horrendous!
Massachusetts was blanketed in deep snow and it was bitterly cold.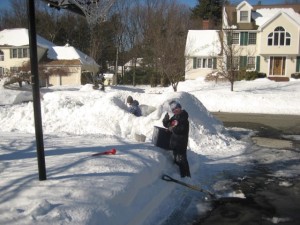 That snow fort I helped my kids build had massively thick walls – it lasted into early April!
The appalling weather severely slowed US economic growth in the first quarter.  Despite the adverse conditions, Greater Boston home prices kept on the ascent.  With continuing tight supplies of homes for sale, we are seemingly getting used to rising real estate prices in MA.  Follow the hotlink to see a 1st quarter 2014 recap of the Franklin and broader Massachusetts real estate markets.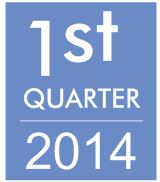 Broadly rising home values are quite a change from just a few years ago when the market was down and home prices were flat – those who bought back then look pretty smart today!   This shows that optimism pays off for those who take action to achieve goals.  Just like owning stock, investing in home ownership is one of the best moves you can make to build long term financial security.  Despite market fluctuations, people who own real estate come out ahead in the long run!
Copyright ©2014 02038.com