Home sellers in Franklin, MA face a potential trap for the unwary when it comes to pricing their homes for the fall 2014 market.  On the one hand, it would be very easy to set a high asking price in the face of what has been, up to recently, a "perfect sellers' market" of scant housing supplies and steadily rising home values.  On the other hand, there has been a little-noticed but profoundly important surge in housing inventory in Franklin over the last 6 months.  The rising tide of Franklin homes for sale provides an opportunity for home buyers to get into the desirable Franklin market and gives sellers a compelling reason to price their homes realistically this fall.
Home sellers were in the driver's seat

Beginning in early 2013 and continuing well into this year, homeowners in Franklin, Massachusetts were subjected to constant reports of exceedingly tight supplies of available properties in town. Print ads as well as postcards and social media updates from agents trumpeted the lack of listings.  As recently as last March, there were very, very few homes for sale in Franklin.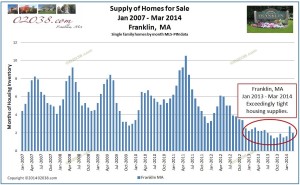 The Franklin housing market was so tight it squeaked! Buyers were frantic due to the lack of choice in town.  Stories of open house bidding wars abounded.  Homes in Franklin neighborhood settings often sold in days and often at or above asking price.
Market shift to more inventory began April 2014

As early as April 15, 02038.com was commenting on a sudden uptick in home listings in Franklin.  By mid-May the listing surge had become a trend.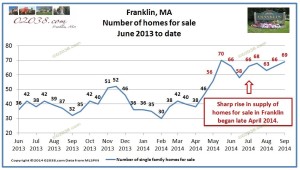 The big question then became whether buyers would respond to the new-found supply of homes by snapping listings up as quickly as they hit the market. That question is pretty resoundingly answered in the graphics below . . .
Breakdown of Franklin home listings and sales data
At the start of September 2014, Franklin, MA is carrying 69 single family homes for sale, as opposed to only 37 homes on September 1, 2013.  That's an 86% increase in inventory.  Quite a jump!  The chart below shows the distribution of housing inventory in Franklin among the various price brackets on September 1 this year and in 2013: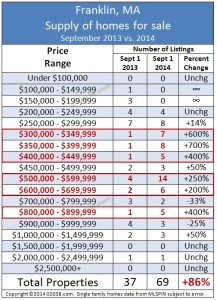 On September 1, 2013, a Franklin home seller in the $300,000 – $349,999 price bracket faced almost no competition – there was only one home for sale in Franklin in that price segment!  It was the same for the $350,000 – $399,999 and $400,000 – $449,999 price segments: only one home for sale in each price bracket.  That was a golden time to sell with virtually no competition!
Now there are plenty of homes available in all of those price brackets.  Home sellers in those price segments face significant competition for a sale.  This will likely lead to jockeying for market position and puts downwards pressure on asking prices.
It's a similar story in Franklin's $500,000 – $599,999 and $600,000 – $699,999 price segments: from little inventory in 2013 to lots of homes for sale in 2014.  Even the $800,000 – $899,999 price bracket has standing inventory.  Franklin home sellers face a marketing environment in the fall of 2014 that is much less accommodating, and much more competitive, than at this time last year.
 Home sales volume remains flat despite listing surge

With all those extra homes for sale in Franklin, Massachusetts over the last 6 months, one would hope that homes sales volume would soar.  It didn't.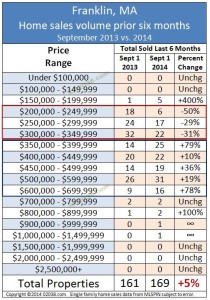 Franklin homes sales volume for the last 6 months ending August 31, 2o14 rose a scant 5%.  There was a slump in sales for homes priced below $350,000. While there were healthy sales volume gains for houses selling between $350,000 and $699,999, the overall demand for homes in Franklin, MA did not materially increase over 2013 levels.  Demand failed to keep up with ("absorb") all the new listings that have entered the Franklin market since April, leaving us with ample housing inventory in town as the prime fall home selling season gets under way.
What this means for Franklin home sellers and buyers
Home sellers in Franklin who get too aggressive with their asking prices may face a fall of frustration this year due to the increased inventory of homes for sale in town.  Already, overpriced homes in Franklin linger unsold as the weeks go by.  Owners of homes that fail to find buyers quickly this fall would be wise to cut their asking prices before the cold and darkness of winter approach.  Avoid the unfortunate position of having to play catch up on price adjustments in November and December!  Warren Reynolds knows the Franklin market like the back of his hand and will help you sell your Franklin home quickly and for the right price.
While the backlog of homes sitting unsold in Franklin is putting some downward pressure on asking prices, the good news this fall is that interest rates remain low and the Massachusetts economy is strong.  With all the extra inventory, home buyers in Franklin finally have the luxury of some choice.  Franklin home buyers should seize the opportunity to score a good home at a decent price this fall.  New homes at affordable prices simply are not being built in the Bay State so the bias over time is towards home price appreciation.  Strike while the iron is hot!  Contact Warren Reynolds for expert help and advice in finding your next home in Franklin or anywhere in the I-495 region!
Copyright ©2014 02038.com