Local volunteers spent a few hours last Saturday doing a spring clean up at the Franklin State Forest in Franklin, MA. The Forest has an extensive network of trails that afford a lot of hiking and biking opportunities to the public.
Trash and debris detract from outdoor recreation
Unfortunately, some visitors abuse this local recreation resource by leaving their trash behind.
Even worse, a few people have used the vehicle accessible trail heads to do some serious dumping.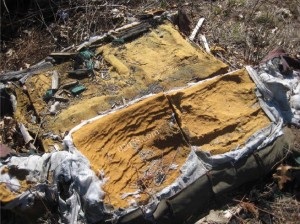 Volunteer clean up makes a difference
The recent volunteer trash removal effort was part the annual Park Serve Day sponsored by the Massachusetts Department of Conservation and Recreation.  Volunteers armed with trash bags fanned out throughout the trail network to remove the unsightly refuse.
Significant removal of dumped debris
It was very gratifying to see a few volunteers exert a lot of effort to drag a significant amount of heavy items, including what looked to be the remains of a sofa and an inflatable pool, to the road side for subsequent removal by the Franklin DPW.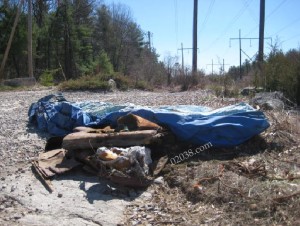 Learn more about the Franklin State Forest
The Franklin State Forest is a wonderful resource for Franklin residents and anyone in the Greater Franklin area seeking easy access to forested trails.  Follow the link to learn more about the Franklin State Forest.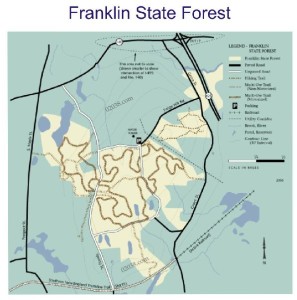 Copyright ©2015 02038.com