The average sale price of townhomes at Stone Ridge in Franklin, MA declined 2.8% for the first half of the year, compared to the average price posted during the first six months of 2014.  As we'll review below, this decline is a bit misleading and should not be taken as proof of an adverse change in the direction of unit values at Stone Ridge.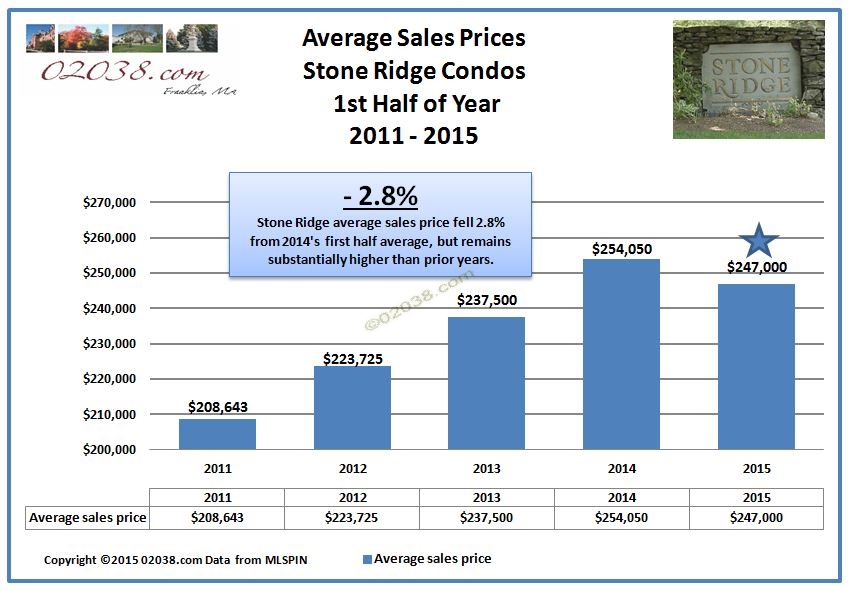 Even with the decline, Stone Ridge's first half 2015 average sale price of $247,000 remains substantially above those of several years preceding 2014. For example, 2015's first half average is some 18% above 2011's first half average sale price. The value trend has been strongly on the upside at Stone Ridge for quite some time!
2015 first half decline a function of statistics, not falling prices
The statistical drop in the average sales price at Stone Ridge so far this year appears to be more a function of the mix of units that sold, rather than a real decline in unit values at this substantial condo community in Franklin, Massachusetts. The first half of 2014 saw four Stone Ridge townhomes change hands. Two of them were large townhomes featuring family room lofts on their 3rd floor levels.  These units' floor plan is larger than most other unit models at the association.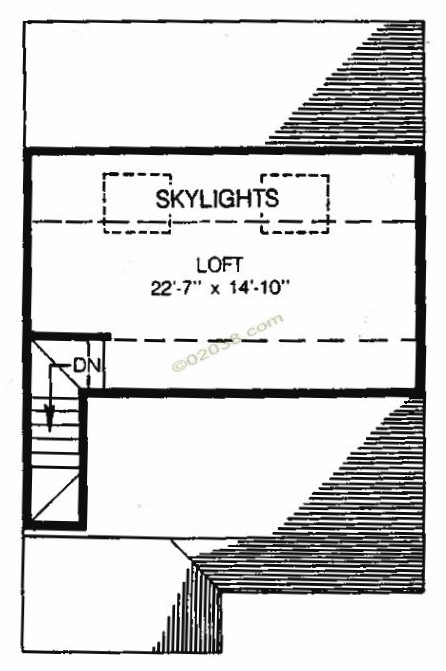 The extra living area in these units raised their selling prices and helped increase first half average sale price for 2014.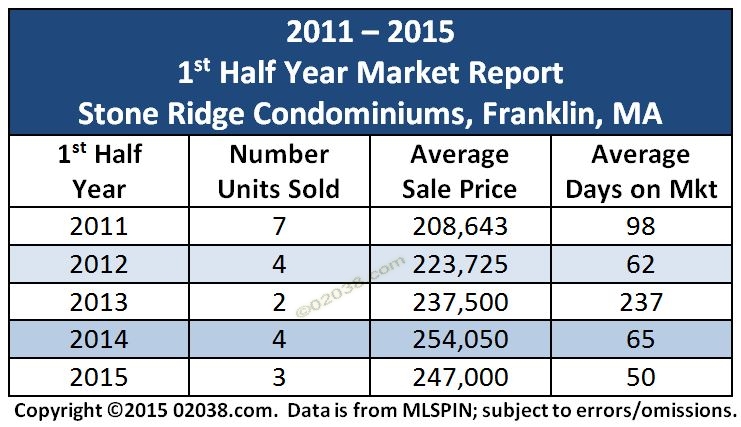 On the other hand, of the three Stone Ridge townhomes that sold during the first half of 2015, only one had the larger floor plan with the 3rd floor loft family room (this unit was one of my listings, by the way). The other two units that sold had smaller floor plans which kept their selling prices constrained.  This mix of sales helped restrain Stone Ridge's first half 2015 average sales price, creating the statistical decline compared to 2014.
Stone Ridge offers affordable home with basements and garages
The Stone Ridge condominiums in Franklin, Massachusetts deliver affordably priced townhomes that have basements and garages. Residents get the basement storage (and potentially finished basement living area) and protected garage parking found with many suburban single family homes.
And as owners of townhomes, they are freed of the responsibilities of exterior maintenance, yard care and snow removal. It's the best of both worlds!
Outstanding location near shopping, commuter rail, I-495 and more!
It's hard to match the advantages of the location in Franklin that Stone Ridge enjoys.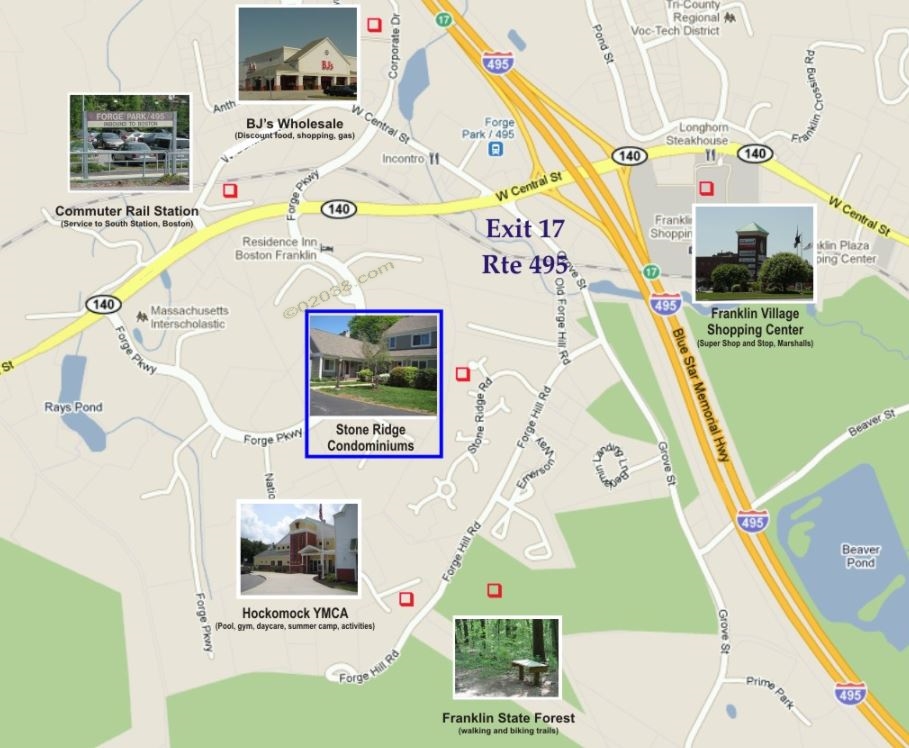 Many retail shops, grocery stores and service providers are a short drive away from this prime condo community in Franklin, MA. For commuters, I-495 and the Forge Hill commuter rail station are very close to Stone Ridge. A modern YMCA is just up the street. And Stone Ridge residents can easily access miles of walking trails in the Franklin State Forest.
You can learn more about the Stone Ridge condos in Franklin, Massachusetts by following the hotlink.  If you'd like to buy or sell a home at Stone Ridge, contact Franklin real estate broker Warren Reynolds.  He'll give you the insider's advantage with this fine condo community!
Copyright ©2015 02038.com