Way back in 2007, Family Circle Magazine started what became a remarkable run of "Top Ten" and "Best Of" awards over the next ten years for the Town of Franklin, MA.  Family Circle got the ball rolling by naming Franklin one of the "Top Ten Places to Raise a Family" in all of the United States!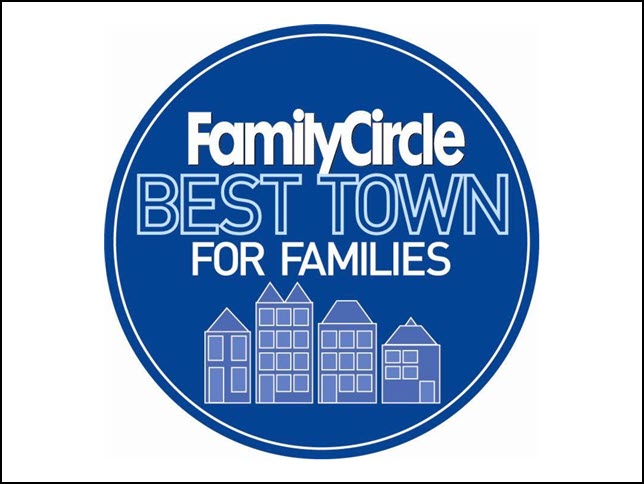 In making its list of Top Ten Towns, Family Circle looked for a strong regional economy, low-stress small town ambiance, quality housing stock, great schools, and plenty of recreational resources.
Why Franklin rated so highly in Family Circle's rankings
One important reason that Family Circle rated Franklin so highly was Franklin's economic prosperity, attractive housing stock, superior schools and the wide array of regional shopping opportunities that so greatly improve the quality of life of Franklin residents.
Franklin was the highest growth town in Massachusetts during the 1990s, which saw the town's population increase by over a third. Prime new subdivisions sprang up throughout the town. The influx of thousands of affluent, well-educated new residents lead to a vast expansion and qualitative improvement of Franklin's public schools, municipal services and the shopping opportunities in and around Franklin.
Small town feel, large community services
Despite all that growth, Franklin has retained the charm and feel of small town New England. There's a beautiful town common (site of summertime concerts on the bandstand and a multi-day 4th of July festival), a bustling downtown area, home to many annual festivals and town-sponsored events, enhanced by Dean College's 100 acre campus. The downtown of Franklin, MA has also benefited from recent multi-million dollar investments in new downtown construction of mixed-use retail and condominium projects and beautification and revitalization spending.
Low property taxes, easier commute
A strong tax base anchored by several industrial and business parks means real estate taxes are lower in Franklin than in many other Massachusetts communities.
Franklin has two stations on the commuter rail line to Boston (travel time approximately 42-61 minutes, depending on time of day) as well as two interchanges on Route 495. This raises the "commutability" of the community.
Franklin is roughly equidistant from the cities of Boston (26 miles ), Worcester (28 miles) and Providence, RI (26 miles). This means there are many cultural attractions and things to do year round within driving distance. Franklin's about 20 minutes from Gillette Stadium (home of the New England Patriots) and the exciting new Patriot Place a 1.3 million square foot complex of shopping, entertainment and commercial uses in Foxboro, MA. Franklin is also approximately 50 miles from the beaches of Cape Cod.
There's a lot to love about Franklin, MA! That's why so many people are very happy to live there. If you have any questions about living in the Franklin community, contact Warren Reynolds – he's here to help you!
Copyright 02038.com