Condo values at Franklin Crossing in Franklin, MA have had quite a run over the last seven years. From a low of $117,000 in the first half of 2012, the average sale price of units at Franklin Crossing have steadily climbed to just shy of the $200,000 mark, hitting $198,967 during the first six months of 2019.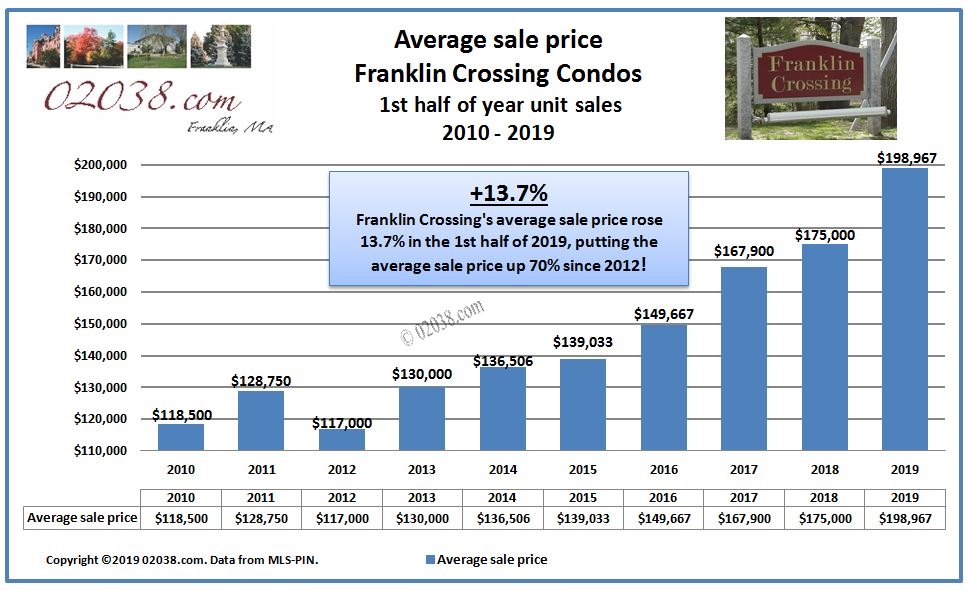 That's nearly a fourteen percent increase over the first half of last year and an astounding seventy percent increase since 2012!
Franklin Crossing sales for the first half of 2019
Below are the Franklin Crossing units that changed hands during the first six months of the year.
Highest sale price
While the $212,200 sale price of Unit 808 is certainly eye-catching, that price was driven by the exceptional degree of updating done to that unit.
Unit 808 was simply beautiful; the extent of improvements made to this unit put it in a class of its own!
Lower-priced sales more significant
What makes 2019's first-half sales so noteworthy for Franklin Crossing are the prices paid for Unit 2603 ($197,500) and Unit 1202 ($186,900).
Neither of those condos had updated kitchens or baths. The prices paid for these units with their original kitchens and baths would have been considered outlandishly high just a few years ago. This is great news for anyone who owns at Franklin Crossing in Franklin, Massachusetts!
Buying or selling at Franklin Crossing
If you're thinking of selling, Contact Warren Reynolds for expert help with pricing and preparing your Franklin Crossing unit for market. He really knows Franklin Crossing!
For those interested in living or investing in Franklin Crossing, you can learn more about the Franklin Crossing Condominiums here. If you have any questions about the Franklin Crossing association or would like to see condos for sale there, Warren's here to help you!
Copyright ©2019 02038.com