Who could have imagined last April, in the depths of the COVID-19 shutdown, that the Massachusetts real estate market would be in a major surge by summer?
As detailed in the above video, the extraordinary performance of the real estate market this summer has set the stage for a possible real estate boom this fall. Prospective home sellers should take advantage of this upcoming selling opportunity. And buyers in this highly competitive market need to adjust their offer strategies accordingly.
No "COVID collapse" in the offing last May
Last May, it was becoming apparent that the Massachusetts housing market would avoid a collapse, despite the COVID-19 economic disruption.

But the positively explosive demand for homes in the Bay State that began in June was as intense as it was unexpected.
Boom in pending home sales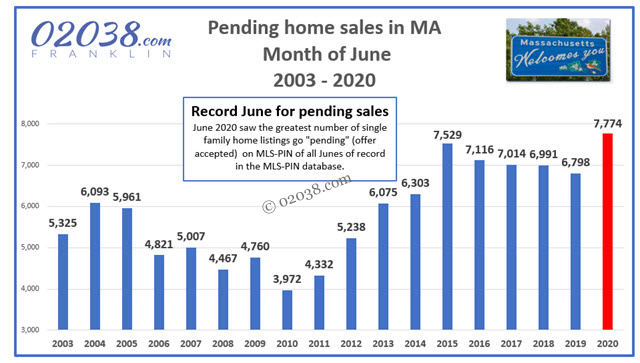 Pending sales of single family homes set a record last June, according to the data maintained by MLS-PIN. (Pending sales are listings that have sale-agreements in place, but the transactions have not yet proceeded to closing.) June 2020 saw the greatest number of pending single family home sales for any month of June on MLS-PIN going back to the early 2000s. (MLS-PIN, as a multiple listing service organization, existed in the late 1990s, but assumed its present position as the dominant MLS in MA circa 2000.)
July also set a record
The surge in pending home sales continued in July.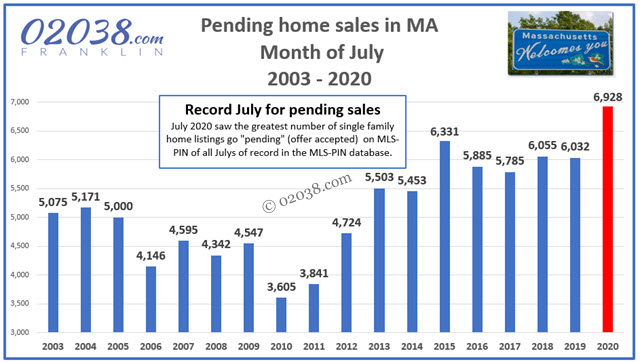 For the second month in a row, pending sales on MLS-PIN set a record. The number of pending sales in July 2020 exceeded the pending sales volume of any prior July in the MLS-PIN database.
The record pace continues in August
At the midpoint of August, the story remains the same: a record number of pending home sales!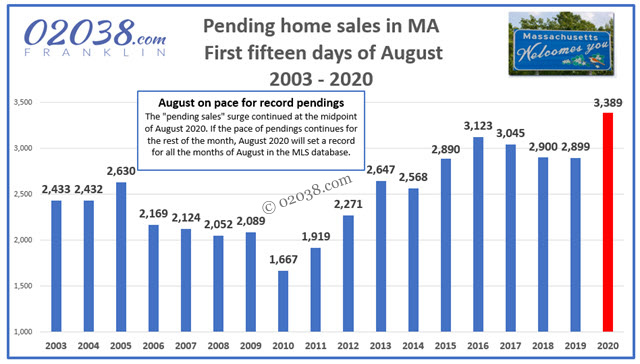 Pending sales the best barometer of market health
If the pace of sales this August continues to the end of the month, it will make three straight months of record pending home sales in Massachusetts. That would be a compelling signal of an upcoming "fall to remember" in real estate this year.
If you have questions about how your home-buying or home-selling plans will be affected by the burgeoning Massachusetts real estate market, you can use the form below to get answers from Warren Reynolds. With over twenty years of home-selling success in Massachusetts, Warren has the experience and expertise to materially help you better your lifestyle and financial future through real estate!
Copyright ©02038.com