In choosing which city or town in which to live, many prospective home buyers don't analyze one important demographic: the educational achievements of the community's residents. In fact, home buyers can use a community's percentage of college graduates as a sort of a shortcut to making a better home buying decision.
Why live in one of the best educated communities?
Buying a home where better educated people live can increase the likelihood of your being happy with your new home. That's because there are lots of social and economic advantages associated with a highly educated populace.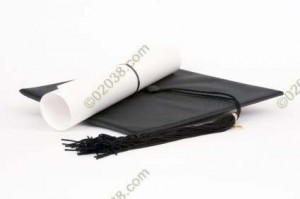 Sociologists and economists generally agree about the many benefits of a highly educated population.  These positives include a more productive workforce, lower crime rates, greater affluence, and a healthier socioeconomic environment.
How to discover a community's educational achievements?
Your job has gotten a lot easier.  There's a slew of new, easily-available census data on the educational achievements of residents in every city and town across the US.
This information has just been published as part of the US Census Bureau's American Community Survey.
Massachusetts is tops in education
A recent news article reporting on the publication of the new American Community Survey data had this to say about where MA ranks in terms of the best educated population:
"The data shows the Bay State at the top of the pack nationally in its percentage of college graduates, with 38 percent of residents over 25 holding a bachelor's degree or higher. The national average is 27.5 percent. Only Washington, D.C., ranked higher than Massachusetts."
Middlesex and Norfolk Counties the best educated in MA
Within Massachusetts, the American Community Survey data on education highlights Middlesex and Norfolk Counties as having the highest concentration of college educated inhabitants.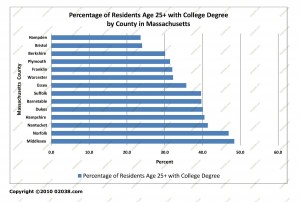 So Massachusetts home buyers would do well to focus their home search on cities and towns in Norfolk and Middlesex counties.
There certainly are highly educated communities in other MA counties, but in terms of sheer numbers of college educated residents, Middlesex and Norfolk Counties clearly are the leaders.
Franklin, MA a stand-out
In Norfolk County, the Town of Franklin in Norfolk County merits particular attention because of its attractive combination of highly educated residents and affordable home prices.
Franklin ranks well in the American Community Survey data among other top MA communities (both within and outside of Norfolk County) in terms of the percentage of residents holding at least a college degree.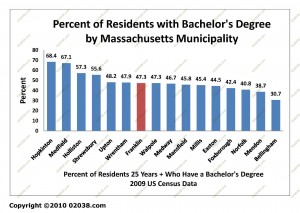 This places Franklin, Massachusetts on par with Wrentham (47.9% of residents aged 25+ with a college degree) and Walpole (47.3%) and above such prestigious area towns as Norfolk (40.8%) and Foxboro (42.4%).
Only highly affluent (and expensive in terms of home prices) Metro West communities such as Hopkinton and Medfield greatly out-paced Franklin with respect to a highly educated populace.
Take a closer look at Franklin, Massachusetts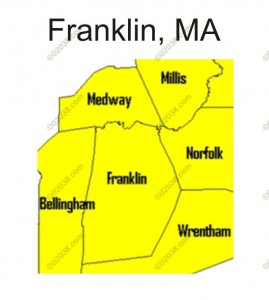 Franklin, Massachusetts offers affordable home prices, great schools, easy access to major commuter linkages, and plentiful, world-class shopping.
So when you are considering where to buy a home, look at the educational achievements of local residents.  That will give you a good lead to the best areas to make your home investment!
Copyright ©2010 02038.com