Up 94 percent since 2000! That's the hefty gain recorded by Greater Boston single family home prices in the 16 years since start of the 21st Century, according to the Case-Shiller Home Price Index for Greater Boston (seasonally adjusted).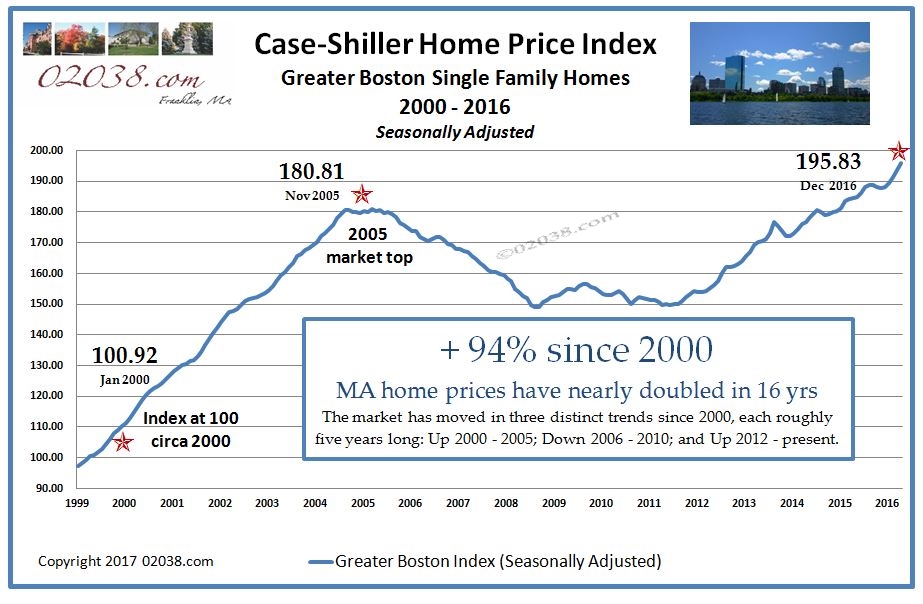 It's a stupendous performance, considering that during those same 16 years we experienced two bruising stock market crashes and the worst national economic crisis since the Great Depression!
Jobs, high quality of life power MA real estate prices
Those who touted the economic benefits of renting instead of owning a home back in 2009 during the market bust look downright foolish today. Holding real assets like real estate is clearly the winning strategy for the long run, so long as you can ride out downturns. In fact, the current run up in home prices empowers many homeowners in MA to sell their current home and trade up to another property, or location, that better serves their future needs. Contact Warren Reynolds to learn how much your current home is worth in today's booming market!
The runup in Massachusetts home prices since 2000 is rooted in the Bay State's dynamic economy and the high quality of life afforded by the Commonwealth. Indeed, Massachusetts was recently named the best state in the nation by US News & World Report.
Scott Van Voorhis, a columnist for the real estate trade newspaper Banker & Tradesman, recently provided the following insights into the phenomenal economy in Massachusetts:
"Massachusetts, especially Greater Boston and the eastern third of the state, have been able to take advantage of national and even global trends that have sparked a renaissance in urban living", Voorhis wrote. Massachusetts has enjoyed a "boom in jobs in complex fields requiring high levels of education and, in turn, drawing an influx of upwardly mobile, talented and generally well-paid professionals" into the Bay State.
All that economic vitality and the buying power that comes with it has fueled the relentless rise in Massachusetts home prices. Due to a lack of affordable new construction, the Commonwealth has been saddled with a serious lack of housing inventory during the last several years that is currently making the home buying process very difficult for many would be MA home owners.
Still, if one had to choose between living in a booming state with high real estate prices and the lower home values that come with a struggling economy, I think most people would gladly chose the former. Contact Warren to discover the true value of your current home – now's a great time to be a home seller!
Copyright ©2017 02038.com