Housing scarcity deepens across Eastern MA
There's a pressing lack of homes for sale in most communities in Eastern Massachusetts. As you'll see in this post below, there's currently an alarmingly low 1.6 months supply of homes currently for sale in the eastern half of the Bay State. With only 1.6 months of inventory in Eastern MA and only 2 months of supply on the MLS-PIN listing database for all of Massachusetts, area home buyers may be confronting a desert landscape of home listings in the spring 2017 housing market!
It started in Boston
The lack of homes for sale in the Greater Boston area has been a well known fact of life in Metro Boston for years. Stories about heartbroken, frustrated buyers, stymied by a lack of choice amid an arid, deserted landscape of affordable homes for sale have been regular features in the Boston Globe ever since the Boston real estate market began its recovery from the Great Recession in 2011. There are homes for sale in the upper price ranges, but not that many buyers can afford $1M+ for a home close to Boston!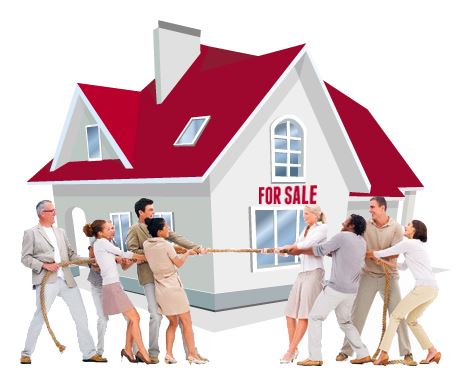 Lack of supply spreads and deepens
An important development of the last five years has been the spread of the housing supply desert beyond the communities immediately surrounding Boston out to the far western exurbs of Boston. The process was slow, and now in hindsight, insidious. Home buyers who could find little on the market in the inner Boston suburbs pushed out to the Rte 128 communities. When the supply of affordable homes along Rte 128 dried up, many buyers fled father west to the then more plentiful supply of homes in the I-495 region. However, over the last five years, the I-495 corridor experienced steady declines in the inventory of available homes. In the past three years, the housing supply crunch became firmly entrenched along the I-495 corridor. In fact, the lack of supply has now become a pressing issue throughout most of Eastern Massachusetts.
Months of supply dwindles
When I started posting content on the supply of homes in the Bay State back in 2009, the vertical axis in the housing inventory charts I created had between eight to twelve months of housing supply. Times were bad, the economy was in a tailspin and home buyers were few and far between. However, over time, the number of months shown on the various charts dwindled as the economy improved, home buyers returned and housing supplies withered:
You can read here about how to use absorption rate analysis to determine the months of supply of homes for sale in any housing market. The fact that now there is a scant 1.6 months of housing supply across the eastern half of Massachusetts is frankly appalling. 6 months of housing inventory is considered the norm in a real estate market in balance. With only 1.6 months of inventory in Eastern MA and only 2 months of supply on the entire MLS-PIN listing database for all of Massachusetts, home buyers may be confronting a dire lack of choice in the spring 2017 home buying season!
If you are a homeowner along the 1-495 corridor and want to sell your current residence and buy back into the Massachusetts market, you should consider creative strategies to give yourself a leg up on the other buyers against whom you'll be competing in the 2017 market. Contact Warren Reynolds for help and advice you can trust. Warren won the Century 21 CENTURION Award in 2016 and while he has great real estate sales skills, he's also an attorney-at-law. He takes his fiduciary duties to his clients very seriously and will put your interests first – no pressure, no self-dealing – you'll do much better with a real estate broker who thinks YOU, not the agent, are Number 1!
Copyright ©2017 02038.com