Mortgage rate drop rescues MA real estate at end of 2018
A sharp decline in mortgage rates last November materially boosted what had been a flagging Massachusetts real estate market in the final quarter of 2018. The rate drop rescued housing from what had been shaping up to be a decidedly sour final three months of the year. Instead, the market recovered its footing at year's end, making all of 2018 a highly successful year for Massachusetts residential real estate.
Rates on the rise for most of 2018
Both the Massachusetts economy and real estate market experienced boom times during the first half of 2018. Amid a buoyant economy with abundant jobs growth, Massachusetts housing went on a tear. The market racked up strong price gains as home buyers competed avidly for a limited supply of available listings.
The fly in the ointment during the 2018 bull market for housing was rising interest rates: mortgage rates relentlessly followed long term Treasury yields higher throughout much of the year.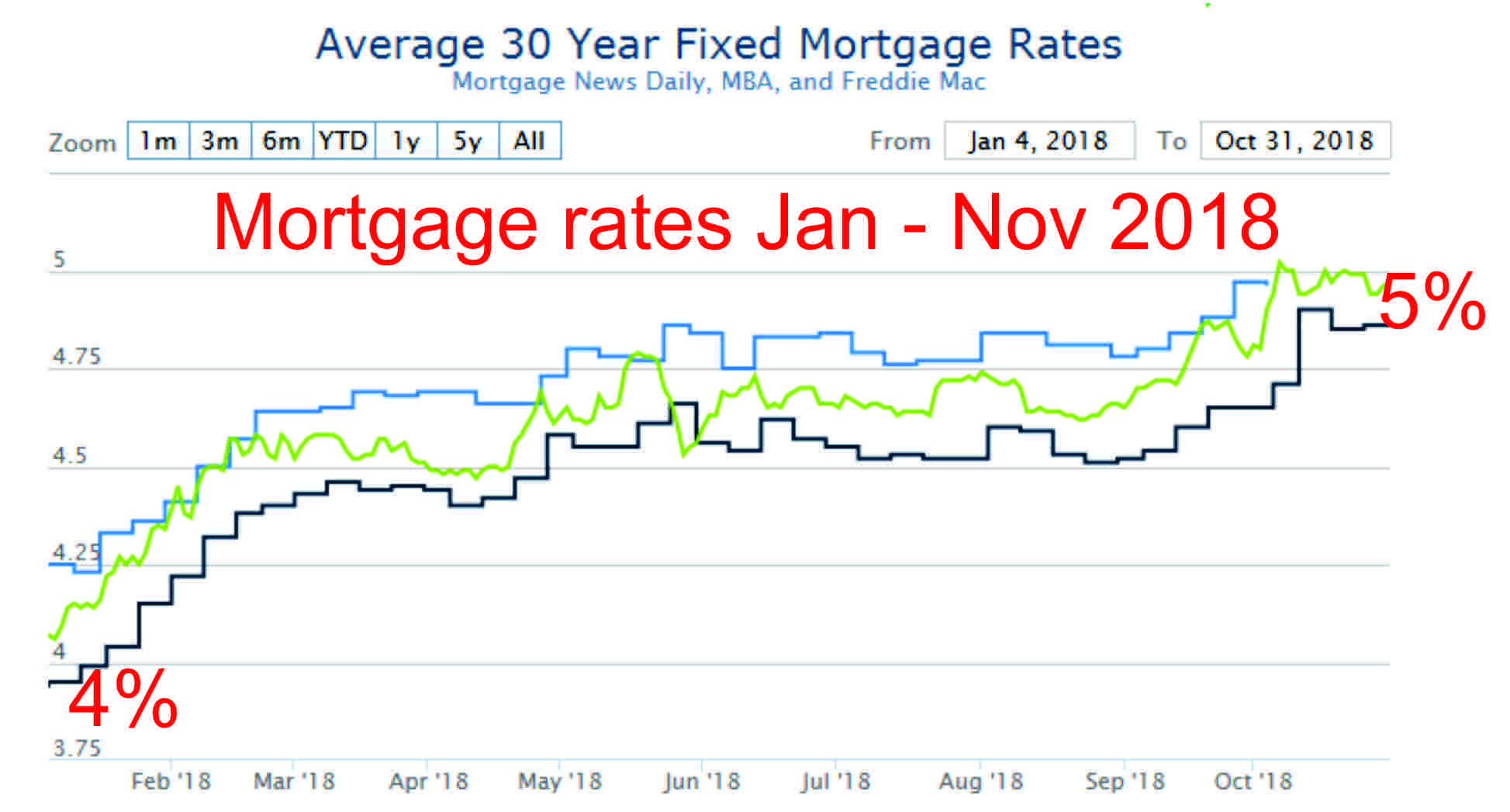 From an average of roughly four percent at the start of 2018, thirty-year mortgage rates neared a high of five percent by the fall. As thirty-year rates approached the psychologically significant five percent threshold last fall, homes sales momentum stalled, turnout at open houses withered and the number of homes sitting unsold rose noticeably.
Rates collapsed in November
As the Massachusetts housing market languished in early November, mortgage rates miraculously fell precipitously.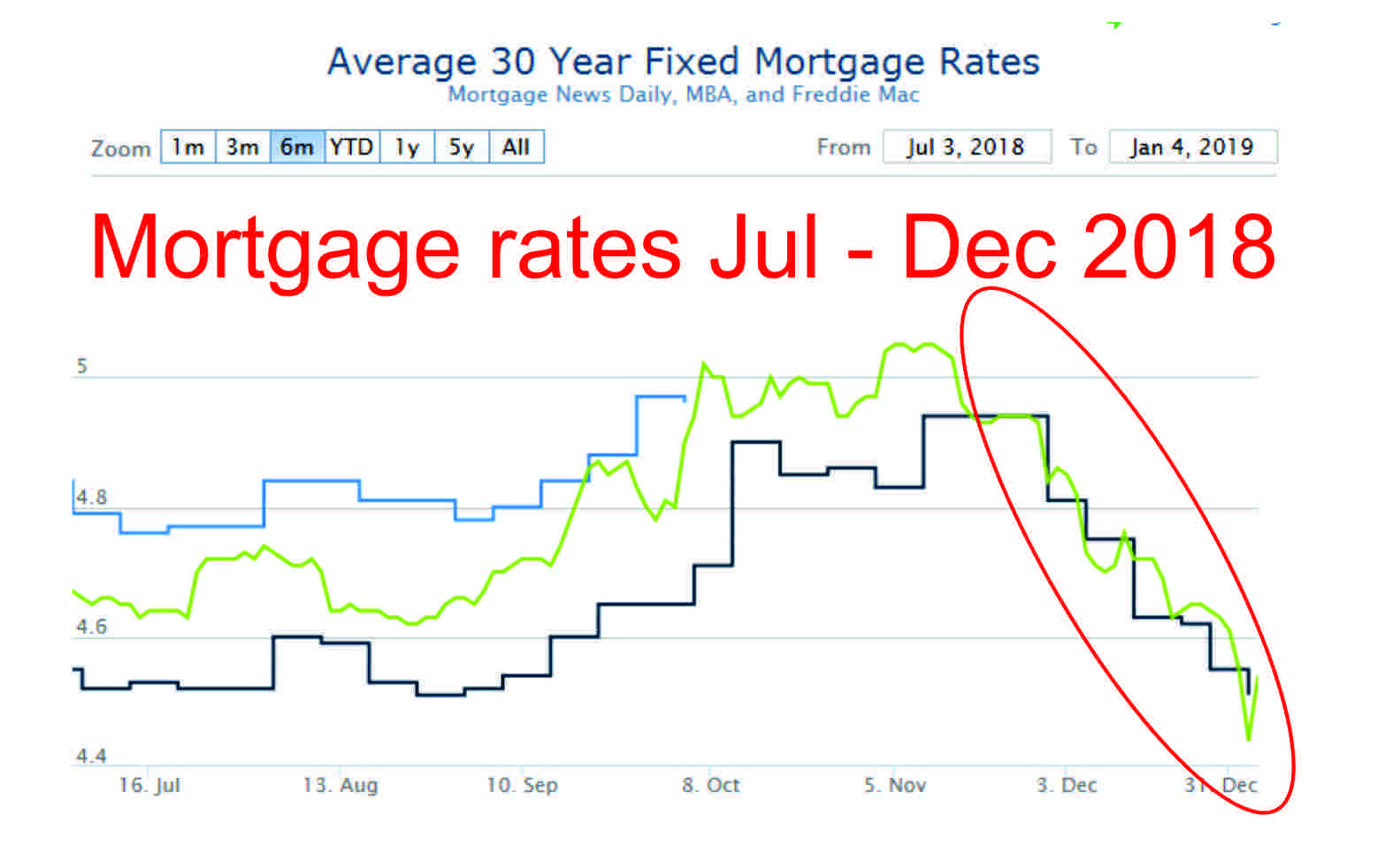 The decline in rates was as swift as it was unexpected. Economic trouble was not behind the drop; the economy was (and still remains) strong. In an effort to explain why rates suddenly tanked, pundits pointed variously to a correction in the stock market, the rout in crude oil prices, and to a seeming change in monetary policy by the Federal Reserve.
But regardless of the cause, the drop in mortgage interest rates gave Massachusetts home sales a huge jolt of new vitality at year's end. Buyers flooded back into the market, making offers up to and through the holidays to lock in the newly attractive rates. What was looking like a worrisomely weak end to the year turned into a triumphant rebound, setting the stage for optimism about prospects for mortgage rates and residential real estate in 2019.
Annual statistics for 2018 look good
"Triumphant" seems an apt adjective for the 2018 real estate market in Massachusetts. Take a look at the median price for the year: another all-time high!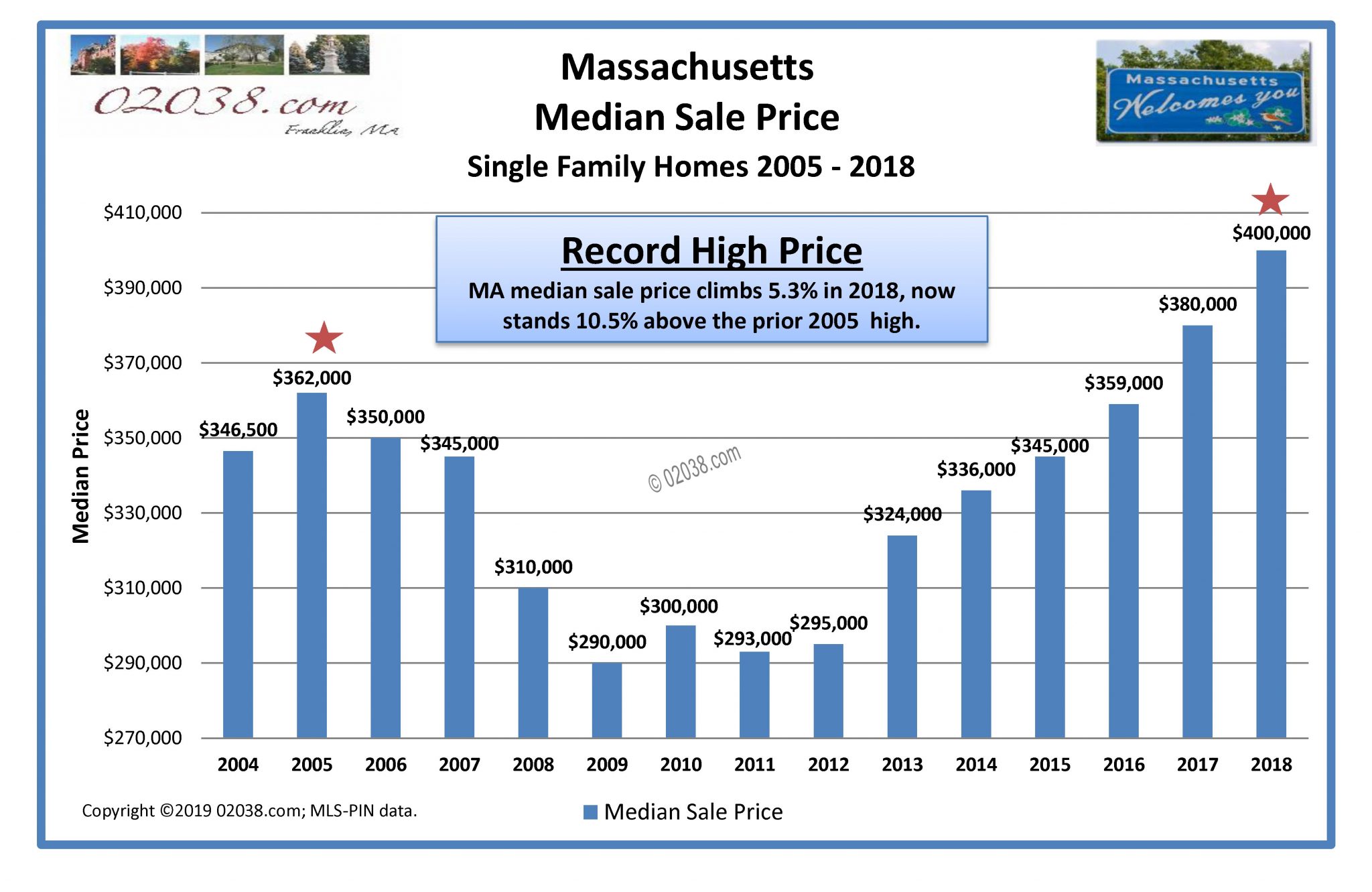 The median sale price for single family homes in Massachusetts rose for the sixth year in a row, according to data supplied by MLS-PIN. At $400,000, the median for 2018 sits at an all-time high, fully 10.5% above 2005's median price set at the top of the last market cycle.
Sales volume solid
The number of single family home sales recorded on MLS-PIN in 2018 slumped a mild 1.4% compared to 2017's total. It was the second year in a row that sales volume was down.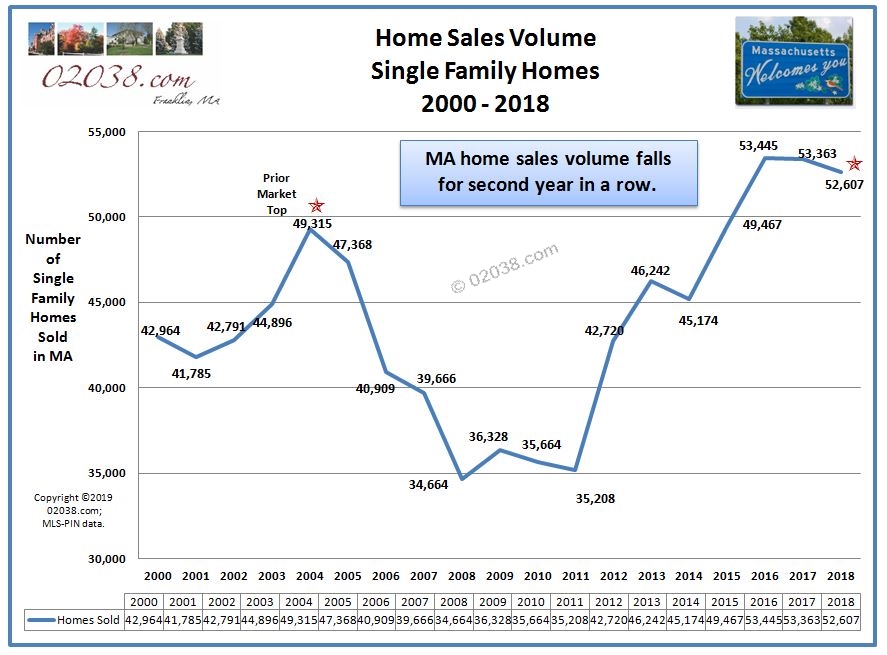 However, sales volume remained well above the totals of most of the years since 2000. Except for the short-lived sales swoon when mortgage rates peaked at five percent last fall, homes sold well in 2018!
Extremely tight housing inventory
The supply of homes was very tight for most of the year.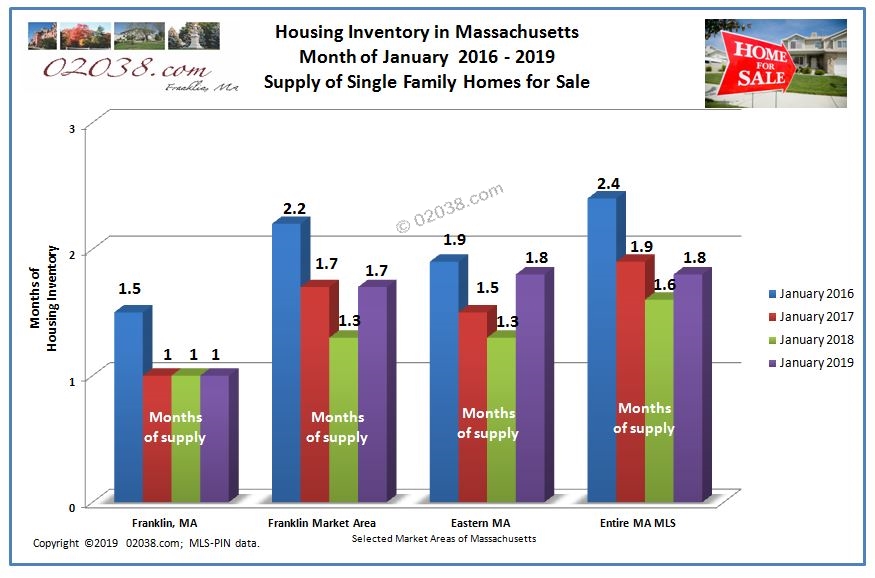 The chart above shows the supply of homes for sale in Massachusetts and several sub-markets in the Bay State this January. (Supply is expressed in the chart as months of inventory.)
The chart is very representative of what housing availability was like throughout 2018: exceedingly tight! The rule of thumb for housing inventory is six months of supply represents a market in equilibrium, while four months of supply or less denotes a sellers' market. So with less than a two month supply in all of markets shown in the chart, housing inventory across Massachusetts is woefully inadequate. The slight uptick in inventory shown in three of the four markets in the chart this January means very little in terms of any easing of the dire lack of available listings in MA.
Housing market in Franklin, MA during 2018
The Franklin, Massachusetts housing market experienced another banner year in 2018.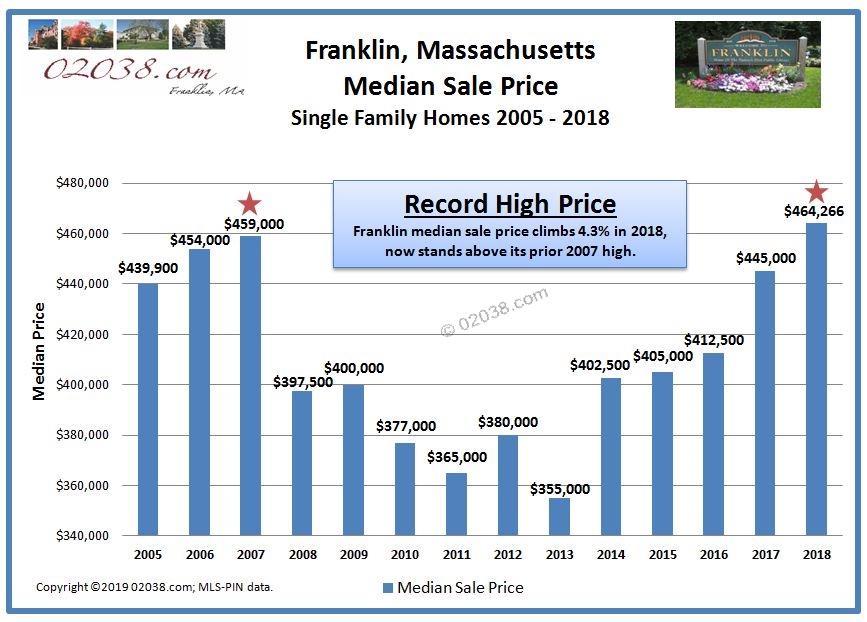 The median sale price of single family homes in Franklin reached a new record high, according to data maintained by MLS-PIN.
Home sales volume was also very strong in Franklin for the year just ended.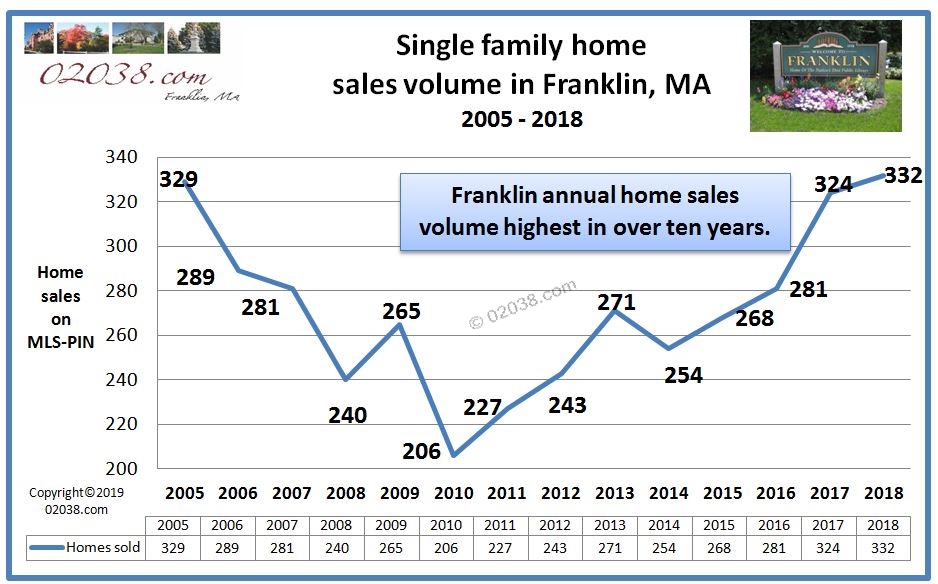 More Franklin single family homes changed hands on MLS-PIN in 2018 than in any year going back to 2005. (Due to Franklin experiencing a home building boom in the 1990s into the early 2000s, home sales volume in town during those years was very much higher than found with more recent annual totals.)
Franklin's home sales volume in 2018 is all the more impressive in light of the very low housing inventory in town throughout the year.
Outlook for 2019
Real estate has a lot riding on the direction of mortgage rates in 2019. Given how quickly demand for housing shriveled once thirty-year mortgage rates reached five percent in 2018, it seems likely that the 2019 housing market will soften again if thirty-year mortgage rates reach or exceed five percent this year.
The good news is that the Federal Reserve seems less intent on tightening monetary policy in 2019 than it was in 2018. (So perhaps we won't be dealing with mortgage rates above five percent any time soon.)
With both the local and national economies thriving as 2019 gets underway, we seem to have good reason for optimism about the Massachusetts housing market in the months ahead!
Copyright ©2019 02038.com