Outlook for real estate in 2019 after 2018's market slowdown
The real estate market in Massachusetts weakened noticeably in the last quarter of 2018, mirroring the slowing pace of home sales in most regions of the US. The late 2018 housing slowdown caught many Massachusetts home sellers by surprise, coming as it did in the midst of a robust economic expansion in the Commonwealth and the rest of New England. With so many new high paying jobs being created in Massachusetts and thousands of new residents moving to the Bay State, many are wondering why the MA housing market suddenly slowed and what might the current slowdown portend for 2019?
High prices, rising mortgage interest rates and emotions

As brilliantly described by Neil Irwin in an insightful article published recently by The New York Times, the roots of the nationwide real estate slowdown lie in home buyers' resistance to ever-rising home prices. As explained in Mr. Irwin's article, home prices became increasingly unaffordable as 2018 unfolded because mortgage interest rates rose steadily throughout the year. Today, mortgage rates stand nearly 25% higher than they did back at the start of 2018.
In his article, Irwin describes how the historically low interest rates in place for years in the aftermath of the 2007 – 2009 Great Recession helped enable home prices to rise sharply in most regions of the country. Irwin notes that since the national economic recovery got underway in 2010, the rise in home values has outstripped gains in personal incomes. Ultra-low mortgage rates helped mask the fact that home buyer incomes were failing to keep pace with escalating home prices. As mortgage rates climbed throughout 2018, however, home buyer purchasing power steadily waned and demand for housing progressively cooled.
You can read Mr. Irwin's full article using the hotlink here, or in the image below: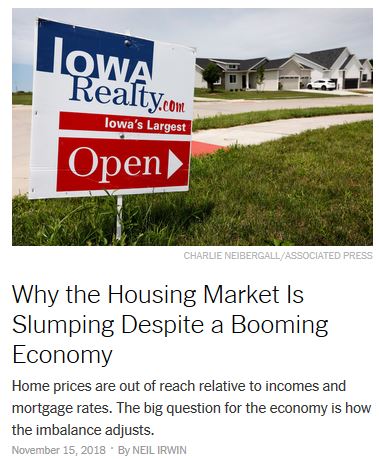 Stalemate in the current market
Irwin makes a very telling observation about residential real estate: decisions about whether to buy or sell a home can be affected greatly by emotions, much more so than with investment decisions concerning commercial real estate or the stock market. The emotionally charged aspects of choosing how and where to shelter your loved ones can dramatically color residential purchase and sale decisions.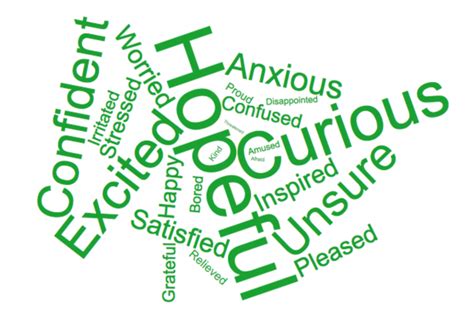 The emotional dimensions of residential real estate help explain what Irwin terms the current "stalemate" that exists between home buyers and sellers at year's end.
In Massachusetts, and in many other formerly high-flying markets elsewhere in the US, today's sellers remember the previously overwhelming flood of demand for homes. The jam-packed open houses and cutthroat bidding wars that were so commonplace just a short time ago have conditioned sellers in the Bay State and across the nation to expect to command ever-higher asking prices. Sellers today are having a hard time emotionally adjusting to the reality that they can no longer demand a premium for their property.
On the buying side, it's the mirror image. Today's home buyers sense the bloom is off the housing market. Buyers feel ill-used by the formerly hyperly competitive market. Home buyers now want to be respected and valued by home sellers. They feel the bite of higher mortgage rates and do not want to make a mistake by paying too much for a home. Buyers today seek homes that are sensibly priced.
Current conditions in Massachusetts
The most recent sales statistics available from MLS-PIN show what is going on in Massachusetts real estate as the 2018 holiday season approaches: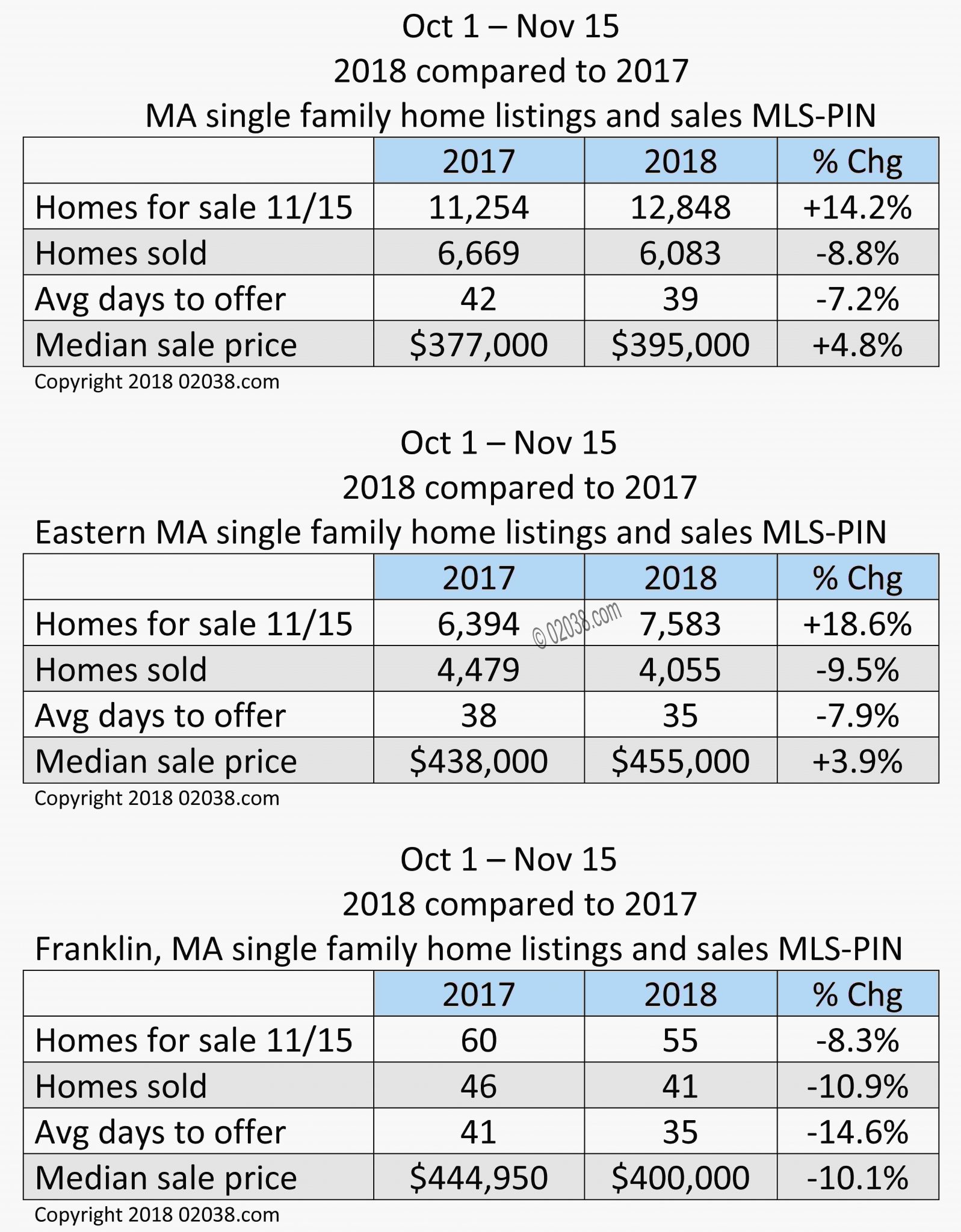 In the broadest readings of the market shown above (all of Massachusetts and Eastern MA), what stands out the most is that the median sale price is higher this year than back in 2017. Note also that days to offer are down (for those listings that found buyers and went under agreement). So the real estate slowdown in the Commonwealth has not negatively affected selling prices and there is sustained demand for homes priced compellingly. In other words, if your asking price is perceived by buyers to be attractive, you will sell!
However, the number of homes for sale, both in Eastern MA and throughout the Bay State, is much higher as of November 15, 2018 compared to the same date last year. Additionally, home sales volume for the period of October 1 – November 15 has slipped significantly this year, compared to the same period in 2017.
(All stats in the above chart for Franklin are down. However, these most recent statistics for Franklin, MA do not merit careful consideration since they represent such a small geographic sample over such a short time period.)
Outlook for 2019 in light of the current slowdown

Neil Irwin's article in The New York Times concludes with a detailed discussion of the outlook for US real estate in light of the current slower conditions. The conclusions reached by Irwin are encouraging for 2019. He states that the ongoing weakness may not turn out to be protracted and may not lead to significant decreases in home prices.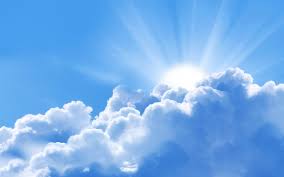 In the the downloadable version of the article available above near the start of this post, I highlighted the sections towards the end of the article that set forth why Irwin believes in a positive outlook for the real estate market. Below, I restate some of his reasons for optimism in 2019 and beyond:
Mortgage lending standards since the end of the Great Recession have steadfastly remained much stricter than what they were at the height of the last real estate boom cycle in the late 1990s and early 2000s. Back then, easy mortgage loan underwriting standards created a large class of under-capitalized homeowners who could not afford to carry their mortgages when times got bad. A similar pool of impaired-homeowner financial instability is absent today, per Irwin.
Current home values are not so outrageously out of whack relative to incomes as they were just prior to the Great Recession; the speculative real estate frenzy of the early 2000s has not been repeated in the 2010s, according to Irwin. (More on that below.)
The amount of overall consumer debt is lower today than it was in the years leading up to the Great Recession.
The national economy is very strong and should help create continued growth in real incomes. Rising incomes over time will help the market support current real estate valuations.
The Millennial generation is entering its prime home buying years. This will help sustain demand for housing in coming years.
Looking at the Massachusetts real estate market at the close of 2018
I can add some additional Massachusetts-specific support to Irwin's belief that there has not been widespread over-speculation in the housing market: housing starts in Massachusetts have been sorely lacking since the Massachusetts economy started growing in 2010. Even in the context of the current housing slowdown, there remains a pressing inadequacy in the supply of homes in Massachusetts.
Unlike the "Condo-Mania" craze in MA back in 1987 that preceded the devastating real estate crash of 1989 which rendered insolvent many banks and mortgage lenders in New England, there simply are not a lot of speculative housing developments in the pipeline in Massachusetts. (A lot of the investment money in Massachusetts has been going into constructing rental apartments, not condo complexes and subdivision developments.) The lack of a present-day overhang of speculative projects that could fail en masse and trigger a credit crunch in Massachusetts should help forestall a sharp retrenchment in home prices in the event that the local economy falters.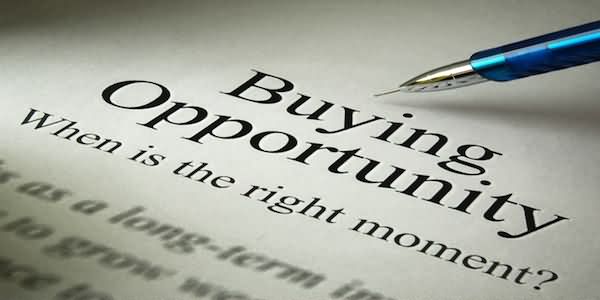 Whether Irwin is correct in his benign take on the likely effects of the current real estate slowdown, only time will tell. It seems clear, however, that if you are in the market to buy a home or an investment property in Massachusetts, now seems a very good time to take advantage of the current slower pace of home sales. There are listings that were over-priced earlier this year and are still sitting unsold today. Some of those frustrated home sellers should be keenly open to offers!
Contact me for help in identifying properties that are ripe for offers! On the selling side, I will help you price properly so you can capitalize on today's advantageous prices – now's a great time to sell!
Copyright ©2018 02038.com