2020 was a break-out year for sale prices at the Stone Ridge Condos in Franklin, MA.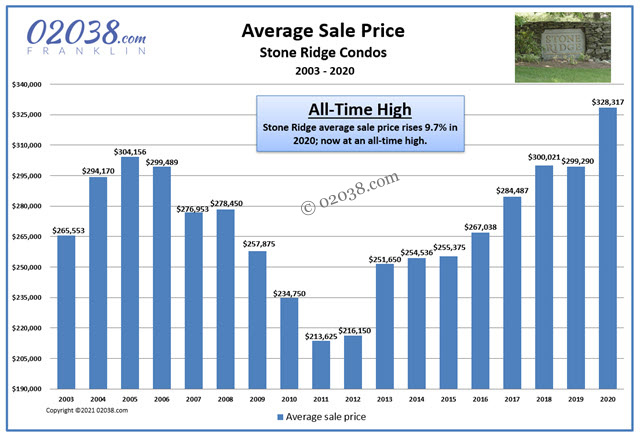 The average price paid for townhomes at Stone Ridge climbed 9.7% in 2020 to an all-time high of over $328,000. What's more, the four highest-priced sales ever recorded on the MLS for condos at Stone Ridge all took place in 2020!
Sales volume
The number of units sold at Stone Ridge in 2020 rose slightly over the prior year's total.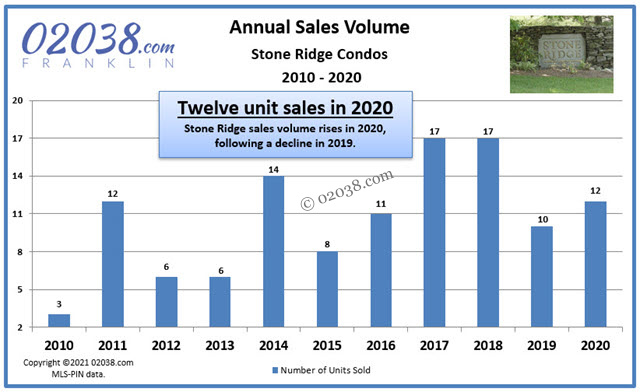 The twelve sales at Stone Ridge recorded on MLS-PIN in 2020 were still below the robust transfer volume of 2017 and 2018. But demand for units was strong in 2020 and all units that sold at Stone Ridge during the year found takers quickly.
Stone Ridge sales report for 2020
You can follow the hotlink at right or embedded in the image below to download photos and facts regarding all the units sold at the Stone Ridge Condos in 2020.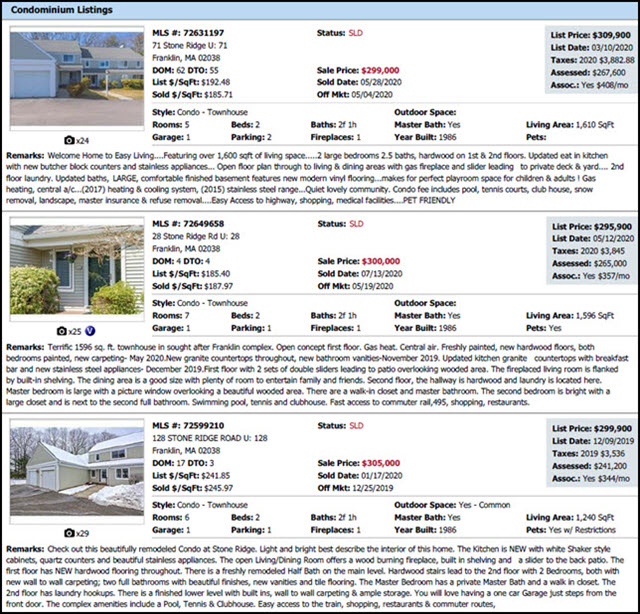 All units sold were in good condition
What stands out about the units sold at Stone Ridge in 2020 is the fact that all had received updates and offered exceptional interior condition:
Kitchens were renovated.
Most of the baths had received upgrades.
And cosmetics were uniformly superior.
This just goes to show that renovated homes in move-in condition generally sell at a premium!
Top sales at Stone Ridge
It's worth noting that the three three top sales at Stone Ridge in 2020 were units offering one-level living.
Both 106 Stone Ridge and 159 Stone Ridge had first-floor master bedroom suites, with two additional bedrooms on their second floors. 49 Stone Ridge was a rare ranch-style unit with two bedrooms on the first floor. Many condo buyers seeking one level living prize Stone Ridge because prices there remain relatively affordable compared to the high prices at most other condo communities in the region.
Discover the Stone Ridge Condominiums in Franklin, MA
You can access facts, videos and photos detailing the high quality of life at the Stone Ridge condo community here or via the link embedded in the image below.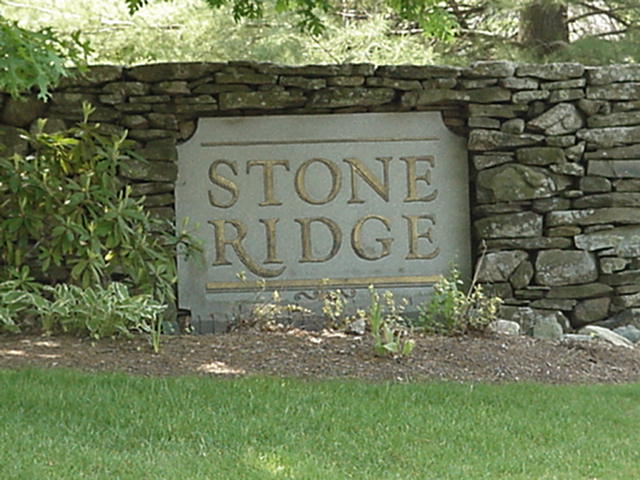 If you have any questions about Stone Ridge, use the form below to get answers from attorney and real estate broker Warren Reynolds.
Copyright ©02038.com