The median sale price of homes in Franklin, MA rose an extraordinary 27% in the first half of 2021, compared to 2020's first-half median. That's over a $120K increase in just one year!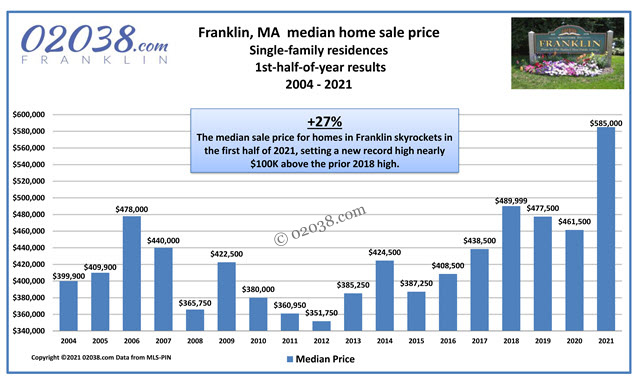 At $585,000, the median sale price of single-family homes in Franklin, Massachusetts currently stands 19% above its prior all-time high of $489,900, set back in 2018.
It was a similar story for the overall real estate in Massachusetts: the median home sale price in the Bay State jumped 21% in the first half of the year.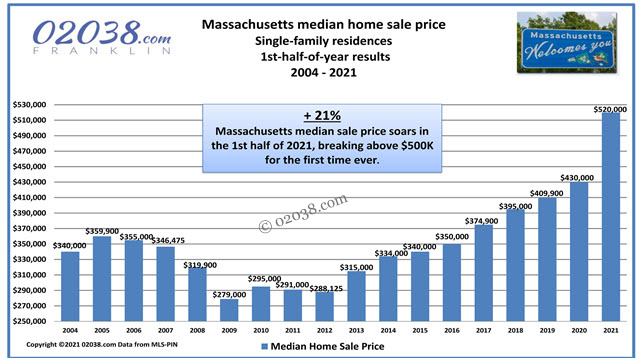 Strong market for Franklin homes in 2021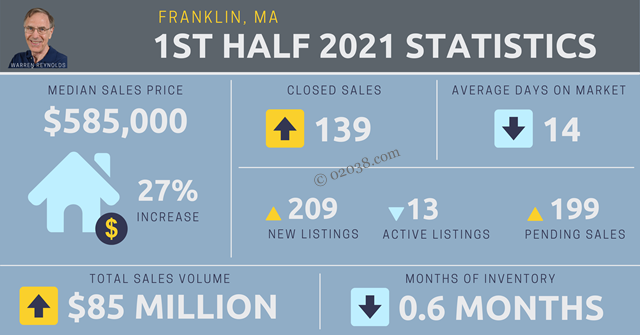 As shown in the graphic above, the demand for homes in Franklin has been exceedingly strong in 2021. In addition to the 27% jump in median price, closed home sales and pending transactions rose in the first half of the year, while the average days on market fell to only fourteen days. Most tellingly, there currently is only just over a half-month of home inventory in Franklin – amazing!
Low housing inventories across Massachusetts
Scant housing inventory has become the norm throughout Massachusetts. Currently, there is only just over one month of housing inventory for sale in Massachusetts. Back when the market was weak in 2012, there were eighteen months of housing supply in the Commonwealth!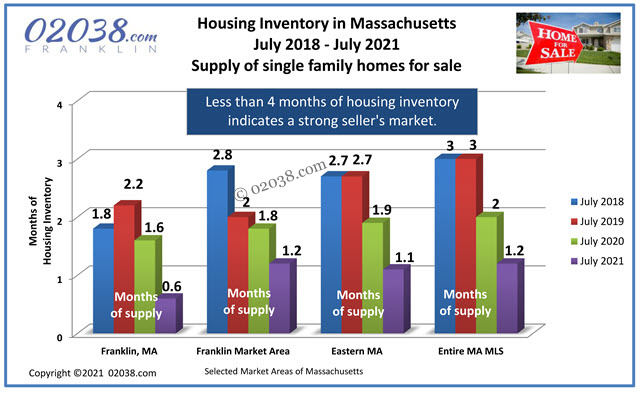 Such a strong housing market is not something that happens very often. You'd have to go back to the mid-1980s to find similar overwhelming demand for homes and such sharply rising home values, both in Franklin and across Massachusetts.
Video on your best strategies to succeed in 2021 real estate market in Massachusetts
The above video details the numbers that explain what is going on in MA real estate in 2021. It suggests strategies for both home buyers and home sellers that will empower you to navigate this active market and achieve success.
What the current market means for home buyers
Buyers have gotten used to long lines at open houses at listings that are new to the market. New listings draw lots of buyers. If you put an offer in on a brand new listing that had a crush of buyers at the open house, you'll likely be only one of many offers. Hot new listings routinely get ten, twenty or even thirty offers . . . in extreme cases , even more. That's a recipe for many frustrated home buyers!
Unless you are financially strong and can make an all-cash offer, or can pay at least 20% cash at closing, with hot new listings the odds are stacked against you. With so many competing offers to consider, sellers have to differentiate between all the offers in some way. The offers with less than 20% cash at closing likely won't make even the initial cut.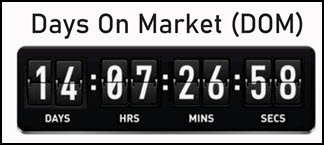 Why get dismissed out of hand? You can increase your chances of getting your offer accepted by changing your strategy: don't chase the hot new listings! Focus instead on longer days-on-market (DOM) homes. Homes with longer DOMs (10 to 14+ days on market) have failed to sell immediately. There will be less competition for those listings. These home sellers need you, and will view you as important. You'll have a far better chance to get your offer considered and negotiate a sale.
Many of the homes that do not sell immediately will have problems or objections. If you can solve the problem or can live with the objectionable feature, you will be the "right buyer" for that listing. Often it's the "right buyers" who are the ones who get their offers accepted
What the current market means for home sellers
The amazing jump in home prices in 2021 will have a huge impact on your finances and your lifestyle options moving forward. If you've owned a home in Massachusetts for more than just a few years, you're likely sitting on significant home equity. You may now be in a position to use that equity to move to a better home that is more suitable for your current (and future) needs
If you're in your 50s or 60s and have been living in your current home for many years, you may be able now to move to a new home to improve your financial health and advance the quality of your life. (For example, you may decide to move to lower-cost housing or find a residence that is less burdensome to maintain. Alternatively, many older homeowners seek to relocate to another area of the country to pursue new interests or to follow the kids as their adult lives unfold.)
Determining your best next home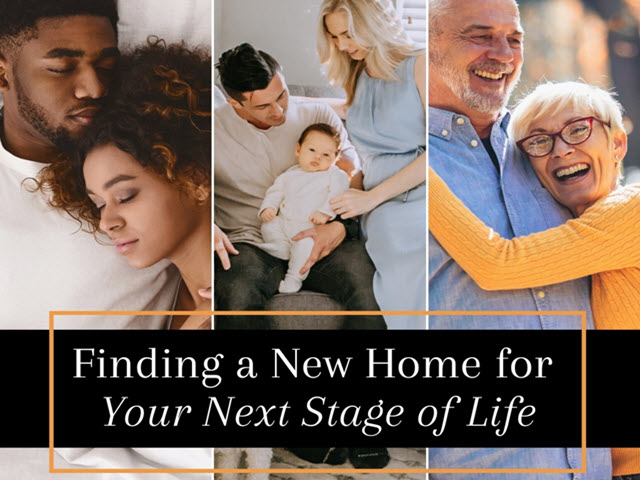 The hotlink at right and in the image above leads to a review of the housing choices and options people typically face as they advance through life. The article covers the varying housing needs of people in each stage of life from early adulthood to retirement.
Finding your next home
Today's fast-paced real estate market means you would be very wise to know where you are going to move to before you put your present home on the market.
If you don't already own a second home, or are in the process of securing your next home, how do you determine what to buy and where to live?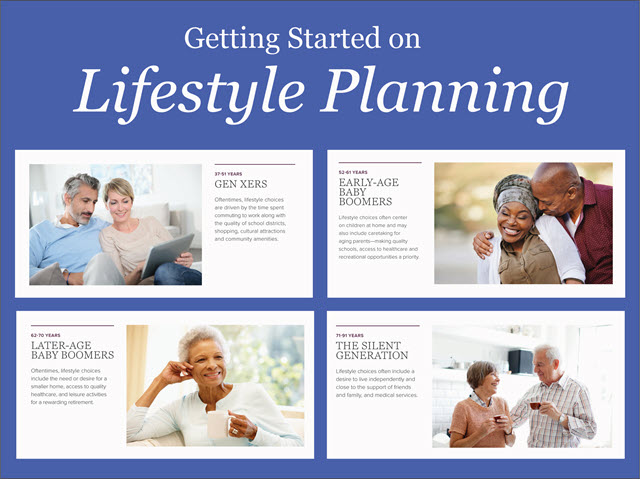 There is a very helpful planning tool that will guide you towards what features – and locations – you should prioritize in your next home. Created by Berkshire Hathaway HomeServices, the Real Estate and Lifestyle Planning Guide will help ensure that your next home matches your lifestyle and housing needs for years to come. You can download the first section of the Guide here, or by following the hotlink in the image above.
Use the form at the bottom of this post to request the complete Real Estate and Lifestyle Planning Guide. It will be instrumental in helping you secure the right "next home" for you. There is no cost, no obligation. Ask for your copy of the Guide today, by using the form below.
Getting your current home ready for market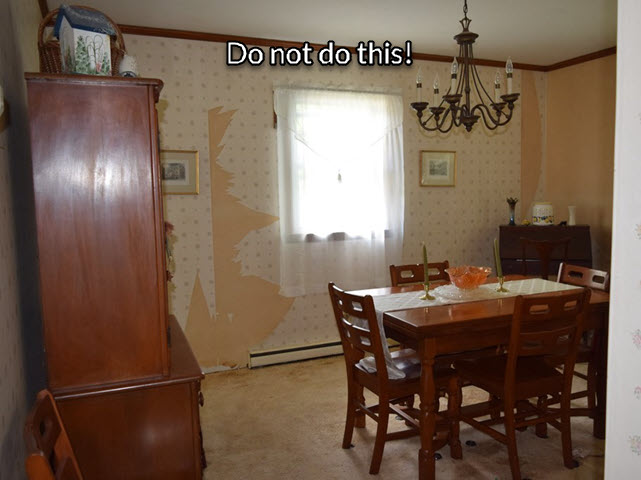 The above image is from a home currently for sale on the MLS. Yes, someone allowed their home to be marketed with torn and half-removed wallpaper in the dining room – wow!. Just think of the unintended messages about the home (as well as the homeowner and the listing agent) this photo is sending to prospective buyers!
While there's no need in today's active real estate market to do a compete makeover of your home in order to sell it, you do have an opportunity to sell for a lot more money with some sensible, cost-effective pre-sale preparation.
What projects are sensible and which ones can you skip?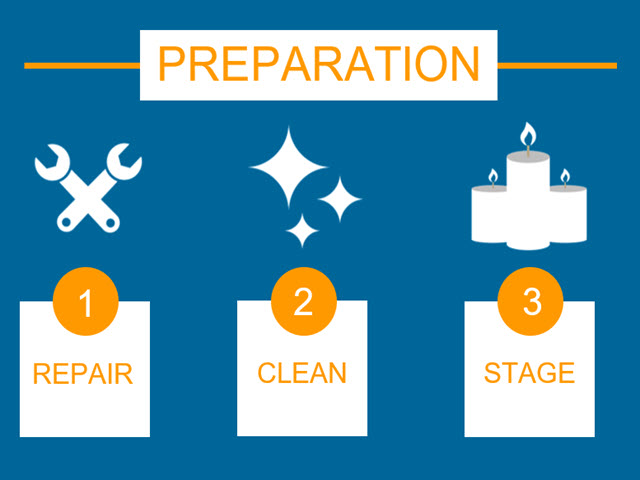 Follow the hotlink in the image above or at right to see how you can get your home in shape for marketing without spending a lot of time and money.
What your own home needs
If you've lived in your home for many years, it may very well have dated décor and tired fixtures in the kitchen and baths. (No buyer wants to move into a home that is still in the 1990s.)
And if you are like most people, you've collected lots of "stuff" over time. So your home also could likely benefit from some serious decluttering.
See examples of how we have helped home sellers do strategic repairs and undertake the decluttering needed to get their properties in proper selling-shape. We can help you, too!
Use the form below to request a personalized analysis of how best to "showcase" your home for market. There's no charge or obligation for this free consultation. (You can also use this form to ask for a copy of the Real Estate and Lifestyle Planning Guide discussed earlier in this post.)
Put yourself in position to take advantage of the historic run-up in home values. Contact us for a copy of the Guide and a free consultation today!
Copyright ©02038.com