The results are in for the Massachusetts real estate market during the first half of 2022: the seller's market is not over! But a market shift is underway. There are fewer buyers looking to buy a home in Massachusetts now than there have been at anytime during the last two years.
Fewer home buyers means a weakening of demand for homes. And that presents a challenge for many MA home sellers. It means some home sellers are now having a harder time finding a buyer – something pretty much unheard of during the home buying frenzy of 2020 – 2021.
Fewer buyers can afford to buy a home
The decline in the number of buyers can be blamed on two factors. First, home prices have continued to surge. The median sale price of single-family homes in Massachusetts rose 10.5% during the first six months of 2022, hitting another new record high.
Secondly, mortgage interest rates have nearly doubled during the first half of 2022. The average rate for a 30-year fixed rate loan started the year at approximately 3%. It soared to just under 6% by midyear, before settling back a bit.
Together, higher borrowing costs and sky-high home prices have knocked a significant number of home buyers out of the hunt for housing. Many aspiring home buyers simply cannot afford to buy a home at today's high prices and higher borrowing costs.
A shift in the market
With fewer buyers competing for homes, demand for housing in Massachusetts has weakened.
First-half home sales volume and the number of price changes on MLS-PIN show the effects of the weaker demand. Single-family home sales volume in Massachusetts fell 10% for the first six months of 2022. And the number of single-family home listings that reduced their asking prices spiked a notable 20% during the same period.
The home buyers still in the market have been able to become more discriminating in their purchase decisions. Don't misunderstand: there are still plenty of buyers looking for homes in MA. But homes that buyers deem over-priced and homes that do not offer buyers what they want are taking longer to sell. And some of these homes are not selling at all.
The change in market dynamics so far has not been pronounced enough to qualify as an outright real estate slowdown. Call it a market "shift" instead. But this shift in the market can nevertheless come as quite a shock to many Massachusetts home sellers who have been fed a steady diet over the last two years of stories describing fevered bidding wars and outrageously over-asking-price offers.
Slight increase in home inventory
2022's first half also witnessed a modest increase in housing inventory in the Bay State.
The number of single-family homes for sale on MLS-PIN was 27% higher at the end of June, compared to the prior year. That may sound like a lot, until one looks back at the number of June listings in 2016 through 2019. In those years, there were at least THREE TIMES the number of available homes on the MLS! The current increase in listings is not a cornucopia of housing riches!
The second chart shows single-family housing inventory expressed as months of supply. The chart confirms that across Massachusetts there is an increased supply of homes. But one month to two months of inventory is very scant. Less than four months of inventory traditionally signals a seller market. So despite the increase in supply, the current housing market still strongly favors the home seller.
Same story in Franklin, MA
It was pretty much the same story for Franklin, MA real estate during the first half of 2022.
The median price of homes sold in Franklin was up 12%, compared to the first half of 2021. Home sales volume slipped.
The number of single-family homes for sale at the end of June was unchanged from June of 2021. But that number bounces up and down day by day. Generally, there have been more homes available in Franklin during 2022, compared to last year.
Price changes in Franklin remained on the decline. That statistical outlier is not very significant, given the relatively small sample represented by the Franklin market.
Will MA housing enter a true slowdown?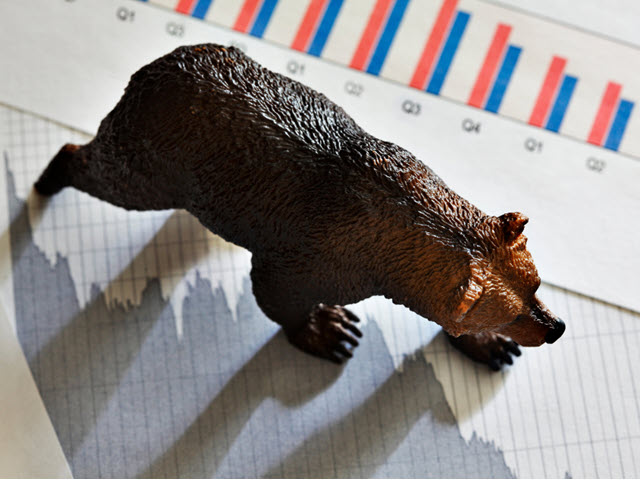 Our recent post looked at past real estate slowdowns in Massachusetts. We found that trouble in the Massachusetts economy has been the consistent cause behind declines in the local housing market. Stock market crashes and even national recessions have in the past had little negative effect on the Massachusetts housing market, so long as regional economic conditions remained solid. A recession in the Massachusetts economy is the most reliable predictor of upcoming bad times for real estate in Massachusetts.
What does the market shift mean for home sellers
We're still in a seller's market. But, it's no longer a safe bet that your listing will automatically ignite a bidding war.

The biggest misstep a home seller can make in our new market reality is pricing their home too high. Be moderate in setting your asking price. That's one key to a successful home sale.
The second key step to maximizing your sale price is to make your home more attractive to potential buyers. Before it hits the market, prepare your home to sell! We can help you decide what needs to get done ahead of time to boost your property's value. This is why it's important to contact us as soon as you start thinking about selling.
What does the market shift mean for home buyers
Home buyers need a winning strategy in today's shifting market. For brand new listings that are attractively priced, you may still face competition from other buyers. With these homes, the strategy of the last two years still applies: bid high and get your offer in quickly.
With homes that did not sell in their first week on the market, you may have an opportunity to get your offer accepted at or just below asking price. These homes may not sell at a sizable discount, but they may be open to a bid that contains a home inspection contingency and an appraisal contingency. Both of these contingencies were almost universally waived by home buyers during the overheated real estate market of the past two years. With homes that have not sold immediately, you may be able to buy at asking and get these important protections included in your winning offer.
Homes that have sat unsold for more than a few weeks should be ripe to sell at a discount. Look to see if the seller has already made a price adjustment. Some sellers are unrealistic and will stick with a too-high price for way too long. Price adjustments are a reliable sign of a motivated seller who wants to find the market value of the property. You should be able to negotiate with these motivated home sellers.
In today's market, the value of a good buyer's agent cannot be overlooked. Gain a competitive edge. We know how to craft a compelling offer that appeals to both the seller and their listing agent. Contact us to see how we can help you on your home buying journey!
Copyright ©02038.com