Charles River Center
Charles River Center is a large shopping center (200,000 square feet of retail space) located close to Franklin, MA in neighboring Bellingham.  This shopping center is very close to Route 495 at Exit 18.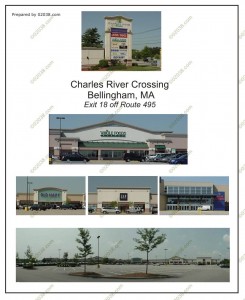 There're several prime retailers here: stores include Whole Foods Market, Old Navy and The Gap.  Regal Cinemas also has a 14 screen movieplex at this location. 
Chili's has a restaurant at Charles River Center.
Charles River Center
245-259 Hartford Avenue
Bellingham, Massachusetts 02019
http://www.wsdevelopment.com/property.asp?property=25
Charles River Center is one of 3 shopping plazas in Bellingham just to the north of Franklin, MA at Exit 18 of Route 495.  All three of these centers have common ownership.  They enjoy a joint website:
http://www.bellinghamshopping.com/ 
This site shows all stores at the three locations and features some photos.