Stallbrook Marketplace
Stallbrook Marketplace is located in Bellinhgam, MA immediately adjacent to Route 495's Exit 18.   Just a few minutes drive from Franklin, MA, Stallbrook is one of 3 malls in this area.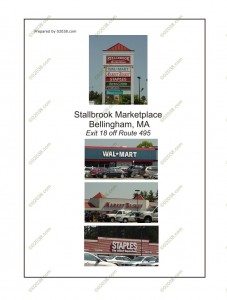 There's some very strong retail presences at this shopping center.  Stores at Stallbrook include Wal-Mart, Staples, Market Basket, and Barnes & Noble.
Stallbrook Marketplace
250 Hartford Avenue
Bellingham, MA 02019
http://www.wsdevelopment.com/property.asp?property=27
Stallbrook Marketplace is one of 3 shopping centers adjacent to Exit 18 of Route 495 in Bellingham.  All 3 plazas are owned by same entity.  This company has created a website for all three shopping centers:
http://www.bellinghamshopping.com/ 
If you visit this site, you'll see a list of all stores at the three plazas, access photos, and more.