Buying a home at foreclosure auction or from a lender post-foreclosure is a very hot topic these days.  And where there's widespread popular interest in a complicated, poorly understood aspect of life involving lots of money, the scam artists are quick to set up shop.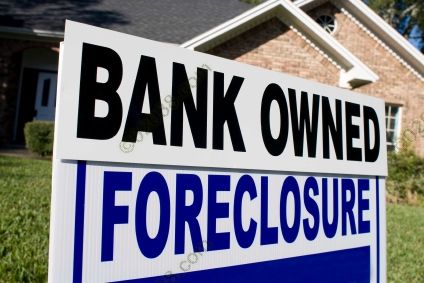 It seems there are hundreds of web sites featuring photos of nice homes going to foreclosure auction here in Massachusetts and across the United States.  Many of these sites sell access to what they say are lists of names and addresses of homeowners facing foreclosure and inventories of bank owned homes. 
There are safe, secure ways to peruse pre-and-post-foreclosure sale information on the Internet.
But unless you know for sure the web site you're visiting is honest and reputable, you should think twice before paying for access to foreclosure lists.  Guard your credit card information carefully!
Here's what I found yesterday when I was doing real estate searches on Google: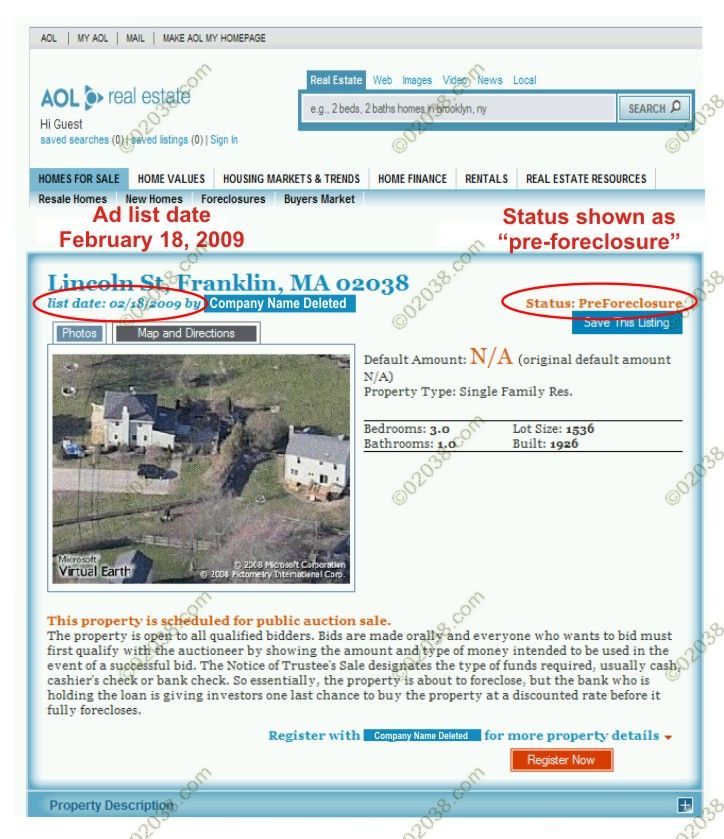 I have blanked out the name of the company that is running the advertisement shown above.  I do not identify this company in this post in any way. 
The company is touting what it purports to be a home in pre-foreclosure status.  The street name (without house number) is given along with an image of the house and a map showing the general location in Franklin, MA are displayed. 
To get the complete address and details about this upcoming foreclosure sale, you need to register with the company and give them your credit card number ('only an initial $1.49 charge – cancel any time!').
There's a big problem with this ad: this foreclosure sale was held 6 months ago! 
I attended this foreclosure auction with one of my clients and he was the successful bidder.  He bought the home, fixed it up (including adding central heat to unheated 2nd floor).  He then listed the property for sale with me and I successfully sold this home late last year to a nice young couple. 
Here's the home as one of my "sold" listings.
Yet this home is now being actively advertised as being in "pre-foreclosure" by a company that wants your credit card number.  The ad is showcased on AOL Real Estate which states the ad was first placed with them February 18, 2009.  (I contacted the current owners who assured me they are current on their mortgage and very happy with their home.)
I Googled the company's name with the term "complaint" and got back quite a number of hits detailing what look to be many consumer grievances against this company.  Many consumers allege they are the victims of fraudulent credit card billings by this firm.  I have no personal knowledge of whether these allegations are true.  All I am doing here is relaying that others have posted complaints about their experiences with this company.
Don't become a victim of Internet fraud.  Maintain a good dose of skepticism about what you see on-line concerning foreclosures – until you are sure about with whom you are dealing, keep your credit card information to yourself!
Copyright ©2009 02038.com