It's very beneficial to Franklin, MA having MBTA commuter rail service to Boston right in town.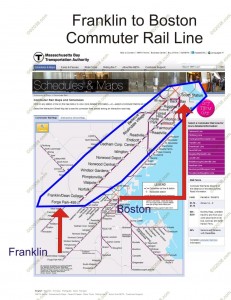 Dean College students use the system frequently to get to and from class, so this helps Dean function well and thrive. 
And a heavy flow of workers use the Franklin line to commute to jobs in Boston or along Route 128 daily.
There are two commuter rail stations in Franklin, MA: Forge Park/Route 495 and the Downtown/Dean College rail station.
From either of the commuter rail stations in Franklin, MA, service to and from Boston's South Station takes roughly one hour each way.
Even if you don't use the commuter rail to get school in Franklin or to work in Boston, there's a lot of sports and cultural activities to enjoy in Boston and it's very easy to use the the commuter train to get there.   The scale is so much smaller and more manageable than what you can find in New York City! 
The Franklin line train runs to Boston's South Station.  From there you can access Boston's "T" subway and bus system. 
Getting to Logan airport is easy via the Silver Line system which stops at South Station.  I have made the run from Franklin to Logan Airport via the commuter rail and Silver Line system and found it easy and enjoyable.  Beats driving and is a lot cheaper than a taxi!
Copyright ©2009 02038.com