Among all Massachusetts cities and towns with populations exceeding 20,000, Franklin is the safest place to live according to a report published in 2015 by ValuePenguin, a nationally recognized personal finance research company. (Although officially deemed a "town", Franklin is classified a "city" in the ValuePenguin safety survey.)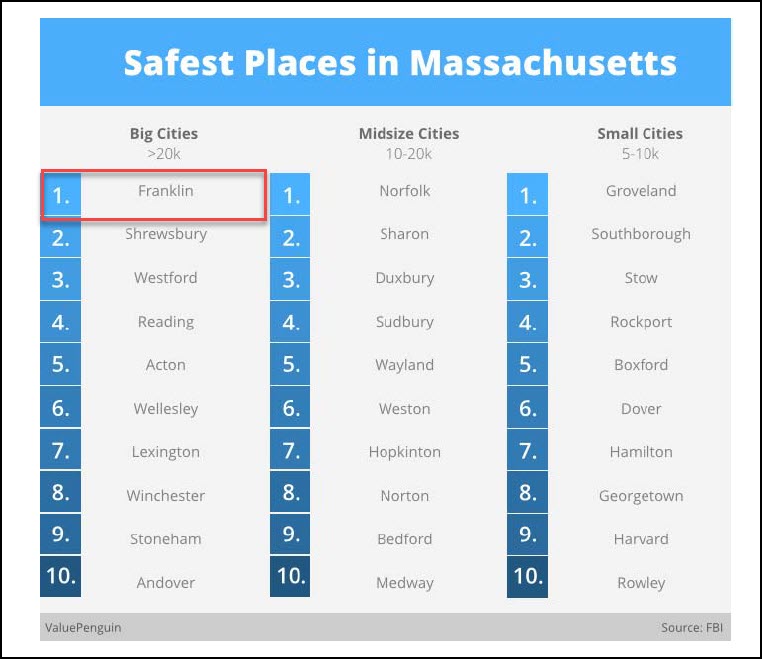 ValuePenguin said it used the latest FBI crime statistics in generating its findings that Franklin is safer than such other large-population Massachusetts communities as Shrewsbury, Westford Acton, Wellesley and Lexington.
Franklin a "Top Ten" town
In ValuePenguin's overall rankings of Massachusetts cities and town regardless of size, Franklin was one of the top ten safest communities in the Bay State.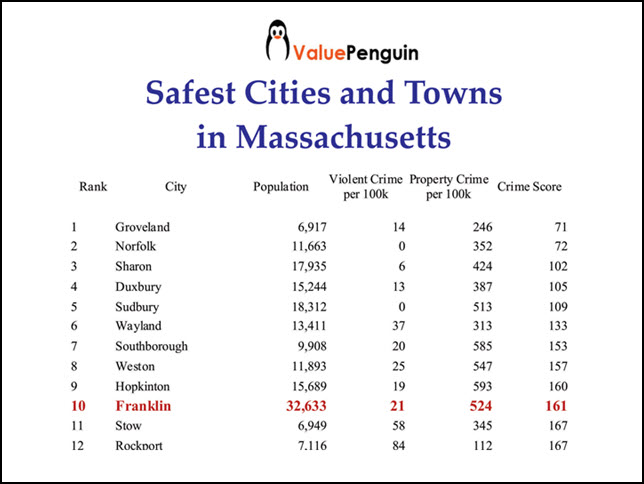 That puts Franklin up with the likes of Hopkinton, Sharon, Sudbury and Wayland. You can download the full report here.
ValuePenguin a respected research company
The community safety reports for Massachusetts published by ValuePengiun are not some frivolous rankings posted on an inconsequential website. ValuePenguin is a privately held company that publishes rigorous research in a wide range of topics, ranging from personal finance (including credit cards, insurance and investing) to careers and education, and most relevant to this post, the best places to live in America. ValuePenguin studies have been cited in articles published by Bloomberg Businessweek, CNBC, The Washington Post, Politico, USA Today and The Chicago Tribune.
Franklin an award winning town
The top safety ranking given Franklin by the professional researchers at ValuePenguin is just one of the national recognitions earned by the town in the last several years. Family Circle Magazine got the ball rolling in 2007 when it named Franklin, MA as one of the top ten places in the US to raise a family. The folks at Bloomberg Businessweek also recognized Franklin, MA as a "top place" when it designated Franklin as the best community in Massachusetts in which to raise children. CNN/Money gave another national honor to Franklin when it named the town one of the "Top Ten Places to Live and Launch" in America. In 2013, Franklin was named the safest city in the US by NeighborhoodScout in its annual crime and safety rankings.
Copyright © 02038.com