The Franklin Youth Lacrosse organization in Franklin, MA seeks to instruct children in the game of lacrosse in a fun and secure environment.  The group strives to foster sportsmanship and help players achieve their full potential.  Franklin Youth Lacrosse in not affiliated with the Town of Franklin, MA and is a member of the Mass Bay Youth Lacrosse League (MBYLL).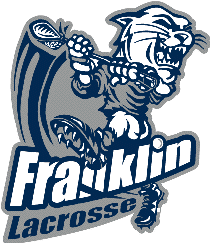 The Franklin Youth Lacrosse season typically runs from late March/early April into June.
Games are played at the Beaver Street Field in Franklin, Massachusetts.  Practices typically take place at the Beaver Street field in Franklin, MA and at the Jefferson/Remington public school ball field (Lord Way off of Washington Street in Franklin, MA).
Franklin Youth Lacrosse
P.O. Box 263
Franklin, MA 02038