Inventories of single family homes for sale rose in select Massachusetts regional markets in January 2009 compared to January 2008.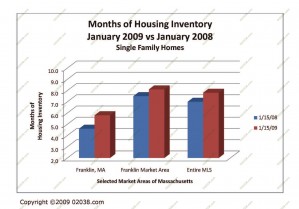 As shown in the chart above, the supply of single family homes rose in January 2009 in Eastern MA, the regional market around Franklin, MA and in Franklin itself. 
This indicates that home offerings are meeting continued resistance from buyers and is consistent with a weakening real estate market in general.
However, note that Franklin's January 2009 housing inventory (5.5 months of supply) compares favorably with the supply of single family homes in Eastern MA as a whole (7.8 months) and in the Franklin regional market (8.1 months of supply).
In the condominium side of the residential housing market, supply in Franklin, MA increased sharply in January 2009 compared to the same month of the prior year.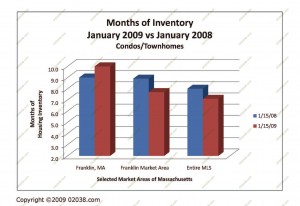 Condo inventory in Franklin ballooned to just over a 14 months' supply in January 2009, compared to 9 months of condos and townhomes for sale in Franklin back in January 2008.
This increase contrasts with the slight decline in condo inventory that occurred in the greater Franklin market area and in Eastern Massachusetts overall.
Why the increase of condo/townhome inventory in Franklin? 
The answer may in all the new construction units that came on line in Franklin in 2008.
Exciting new condo complexes have recently opened in Franklin, swelling the number of units for sale in town. 
The new Franklin condominium developments include the Franklin Center Commons, Franklin Heights and Eagle's Nest communities.
If you'd like to learn more about the many new construction condo opportunities currently available in Franklin, MA, just ask me – I'd be happy to help!
Copyright ©2009 02038.com