The supply of condominiums and townhomes for sale in Franklin, MA increased in December 2008 compared to the same month of the prior year.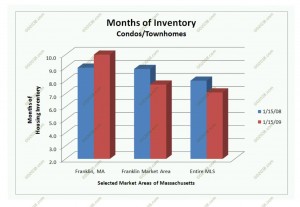 Condo and townhome  inventory in Franklin ballooned to just over a 14 months' supply in December 2008 compared to 9 months of condos and townhomes for sale in Franklin back in December 2007.
This increase contrasts with the slight decline in condo inventory that occurred in the greater Franklin market area and in the Massachusetts MLS overall.
Why the increase in Franklin? 
The answer lies in all the new construction condo/townhome units that came on-line in Franklin in 2008.
Exciting new condo complexes have recently opened in Franklin, swelling the number of  units for sale in town. 
The new Franklin condominium developments include:
Downtown Franklin's Franklin Center Commons;
Franklin Heights off of Lincoln Street; and
Eagle's Nest in the north part of Franklin, MA near Populatic Pond.
If you'd like to learn more about the many new construction condo opportunities currently available in Franklin, MA, just ask me – I'd be happy to help!