The 203K loan program helps finance the sale and repair of single and multi-family properties not exceeding 4 units.  (We'll exclude condominiums from this discussion; 203K loans for the purchase and rehab of condominiums can also be obtained, but under some additional guidelines).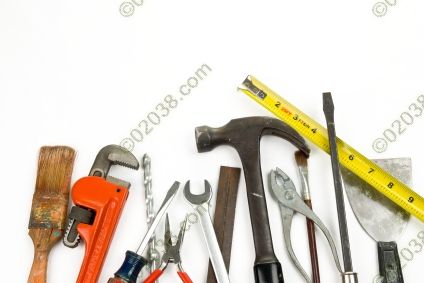 The 203K loan program enables buyers to finance the estimated cost of repairs and improvements in addition to the cost of acquiring the property.  The seller gets his sale proceeds and the buyer receives title to the property along with access to the funds needed to undertake repairs after the closing.
Thus, 203K loans are ideal for "as is" sales, where the seller cannot (or will not) perform or cover the cost of needed property repairs.
Here are some basic requirements  of the 203K program:
• The buyer must occupy the home as his principal residence.
• The 203K mortgage must be a first lien.
• The property must have been in service for at least one year. 
• The property must need at least $5,000 of eligible repairs.
"Eligible repairs" are very broadly defined and range from the obvious (structural, mechanical and health and safety defects) to work needed for handicap accessibility.  Septic system repairs or replacements are specifically included as are tie-ins to public sewers, something very helpful when sellers and buyers are confronted with Massachusetts' sometimes onerous Title 5 regulations.
Qualification guidelines for 203K loans are very similar to those for ordinary FHA loans.  You'll need at least a 3% to 5% down payment.  Unless your contractor will cover the initial repair costs, you may need access to some extra cash (or a credit card) to pay for expenses until you can draw on the repair fund set up as part of your 203K loan.
If you can't move into the property while repairs are performed, the 203K program allows you to borrow up to six months of rent payments for temporary housing.
There is also a recently implemented "Streamlined 203K program" designed for simple home repairs and enhancements for which formal plans, engineers and/or architects are not needed.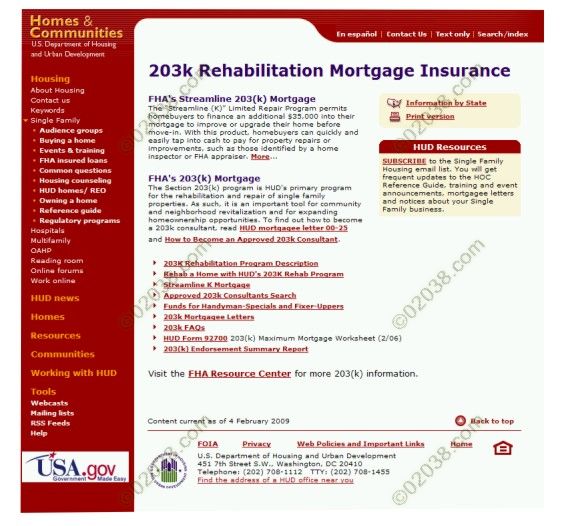 The above image is from an excellent web site that gives detailed guidelines governing all aspects of the 203K loan program.
You can review the ins and outs of the program and access helpful downloads there.
Copyright ©2009 02038.com