Absorption Rates March 2009
Single family home inventory in Massachusetts showed modest improvement in March 2009 compared to year-ago levels.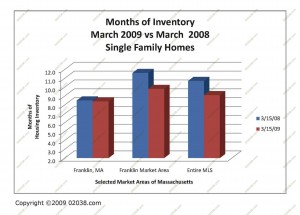 The Franklin, MA real estate market experienced the least reduction; it carried 8.4 months of inventory in March 2009 (compared to 8.5 months in March 2008).   On the other hand, Franklin had the lowest level of inventory in the 3 markets tracked by 02038.com.
The regional market surrounding Franklin, MA had 9.8 months of single family home inventory in March 2009.  This represents a 15.5% reduction from March 2008's 11.6 months of supply.
The single family home market for all of Massachusetts saw a 15% reduction in single family home inventory (9.1 months of inventory for March 2009 versus 10.7 months in March 2008).
Inventories of condominiums declined in March compared to year-ago levels in the regional market surrounding Franklin, MA and across the entire Commonwealth of Massachusetts.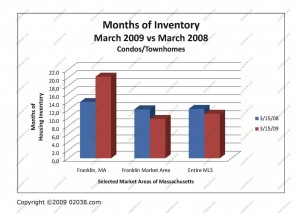 There were 9.7 months of condo inventory in the Franklin regional market in March 2009 (compared to just over 12 months back in March 2008).
Condominium inventory for the entire Massachusetts market in March 2009 stood at 11 months (as opposed to 12.2 months in the same month for the prior year.)
It was a very different picture in Franklin itself where condo inventory ballooned to an eye-popping 20.2 months.  This can be traced directly to the addition of many spec-built new construction units in Franklin.
In the last 30 days, 42 new Franklin condominium listings were entered into the regional MLS system – that's a lot of new inventory! 
The bulk of these new MLS listings in Franklin were new construction units in Hidden Acres Village (off Chestnut Street), Franklin Heights (off Lincoln Street) and new Phase 3 of The Villages at Oak Hill (off Washington Street in the south part of Franklin).
Click here to see houses and condos for sale in Franklin, MA and the greater Route 495 region!
Copyright ©2009 02038.com