The Federal Reserve is taking remarkable steps to drive mortgage rates lower.  This push to reduce rates demonstrates that the US government is fully committed to re-inflating the national housing market. 
Mortgage interest rates are already at levels not seen since their historic lows of 2003.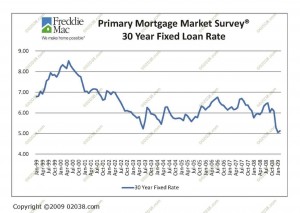 As reported by the Federal Home Loan Mortgage Corporation, (Freddie Mac), 30 year fixed rates are now at approximately 5.1 %, down substantially from their recent high of 6.7 % reached back in July 2007.
The Fed recently announced plans for massive purchases of mortgage-backed securities. 
The Fed intends to purchase $750 billion in mortgage securities backed by Fannie Mae and Freddie Mac and another $300 billion of long-term government bonds.  The expectation is that these purchases will spur further declines in mortgage interest rates.
Analysts are calling the Fed's plan "extraordinary" because the Fed will be buying about half of all US home loans made in 2009.   Many are predicting that mortgage rates will fall soon by an additional 25 – 50 basis points (.25 to.50 percentage points).
Given how low mortgage rates are, this is a good time to refinance or buy real estate!
Click here to see homes and land for sale in Franklin, MA and the surrounding region. 
Copyright ©2009 02038.com