There was a total of only seven single family home sales in Franklin entered on the MLS during February 2009.  This is an astonishingly low number for Franklin, MA!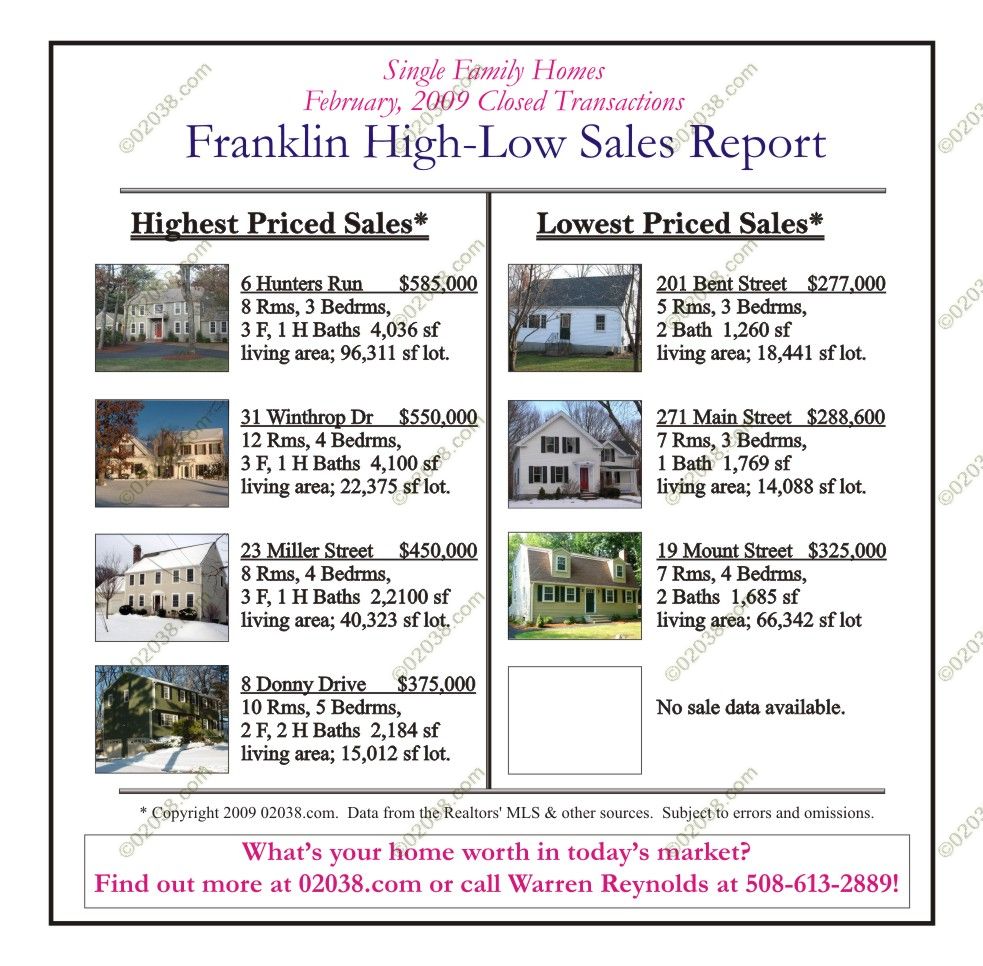 At a paltry 7, February's total single family sale volume represents a 46% decline from the average number of February home sales achieved over the past 6 years in Franklin.  (Franklin has averaged 13 sales each February from 2003 and 2008).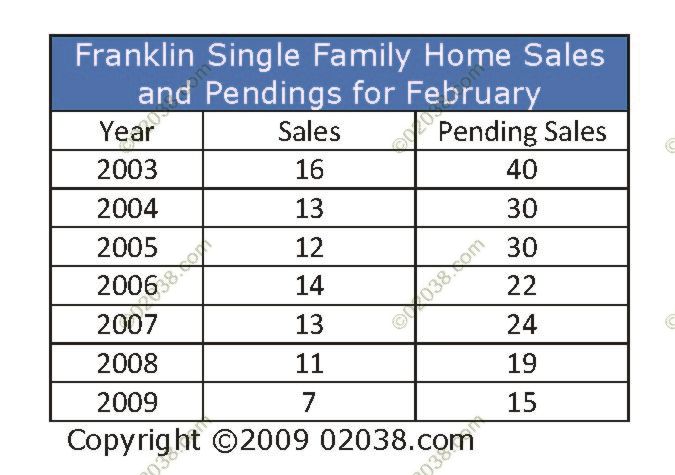 Pending sales (single family homes under agreement but with transfers of title not yet completed) for February 2009 were also at their lowest levels in years in Franklin.
But look at the sale prices at low end of the Franklin market this past month.  With the lowest sale price coming in at $277,000, home prices in Franklin remain pretty high!
I do not report on monthly median sale price figures for Franklin because the monthly sample of home sales generally is too variable to produce reliable statistics. 
A look at the broader MA market paints a reliable picture of Massachusetts home prices as being down but not depressed.
As documented by the S&P/Case-Shiller Home Price Index Home for Boston, home prices in the metro Boston area are off over 16% from their peak reached back in 2005.  But considering how high prices rose in Massachusetts between 2000 and 2005, the price decline to date has not made homes cheap by any means.  Massachusetts homes are still expensive!
Home buyers in 2009 might want to take a perverse comfort in the relative resilience of Massachusetts home prices to date. 
No one can see future events, so MA home prices may fall some more, especially if the national economy encounters new problems in 2009. 
But the fact that Massachusetts property values have held up so well to date in the face of last year's credit crisis and stock market collapse may indicate that they'll bounce back smartly a few years from now once the troubled the national economy rights itself.
Click here to see homes currently for sale in Franklin, MA and surrounding communities!
Copyright ©2009 02038.com