This is a very uneven real estate market. 
Some homes sell quickly while others can linger unsold for months.   So you have some happy, successful home sellers and also some very unhappy homeowners who tried to sell but could not.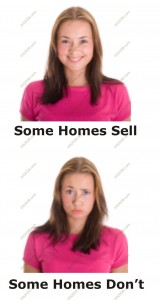 The last week in Franklin, MA amply demonstrates the somewhat contradictory nature of the current real estate market.
In the past week, Franklin has had seven homes fail to sell; these MLS listings in Franklin either expired or were withdrawn from active marketing.  The days on market (DOM) for these homes ranged from 64 days to a whopping 296.
Yet also during the past week, Franklin saw a brand new listing hit the MLS and sell almost immediately! 
It was a cute cape with a full rear dormer in a pleasant neighborhood setting. 
The listing began 3/13 and by 3/15 the listing agent was reporting on the MLS that "We've been overwhelmed with showings . . . submit highest & best offer  . . . by 3:00 pm on Sunday, 3/15."
The following morning, Monday, March 16, this home went under agreement.  Total DOM was 3 – a very successful sale!
So prospective home sellers should take care to get your home in top showing condition and also price your property with care. 
If you over price in the current market you risk buyer rejection and months of frustration.
If you set your price "to market" so that the property offers compelling value, you just may grab a good buyer quickly and have home sale success.
And as is always the case regardless of what kind of market you're in, a skilled Realtor is your best resource regarding how to properly prepare (and price) your home to sell!
If you'd like to know what your home is worth in today's market, click here!
Copyright ©2009 02038.com