The Franklin, MA real estate market strengthened moderately in March 2009 after the sluggish performance turned in for February.  The top selling prices of single family homes in Franklin for the month far surpassed February's highest sales.  Single family sale volume in Franklin for March also bested February's levels.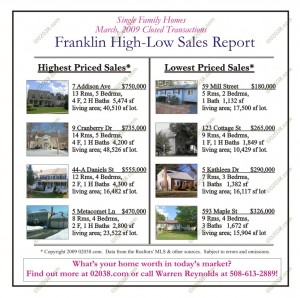 It was very good to see the high end of Franklin, MA home sales break well over the $700,000 barrier in March 2009. 
At $750,000 and $735,000, respectively, 7 Addison Ave. and 9 Cranberry Dr. were the 2nd and 3rd highest single family home sales to date in Franklin, MA for 2009.
Single family sale volume improved in March 2009 from February's levels.  But total single family sales was less than March 2008 figures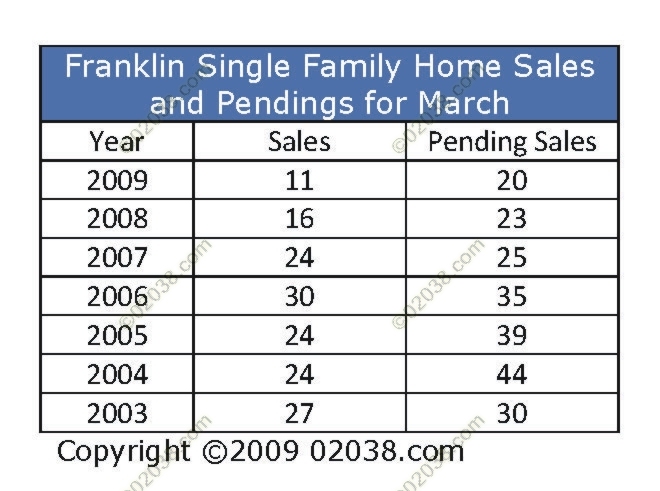 11 single family home sales for the entire month of March 2009 may not seem like much for a town the size of Franklin, MA.   But Franklin's March home sale tally was very welcome coming as it does on the on the heels of February's extremely low real estate sale results.
At least the 20 pending home sales registered on the MLS for Franklin in March 2009 were close to the number of pendings for March the year before.
With mortgage interest rates remaining at or below historic lows, there are grounds for optimism as we head deeper into 2009!
Copyright ©2009 02038.com