The inventory of available single family property in Massachusetts declined 13.4% in April 2009 from year-ago levels.  This is good news for those seeking more stability in the state's housing market.
In contrast, the inventory of Franklin, MA homes for sale remained essentially unchanged this month from April 2008's supply.   This compares to an 8.1% inventory decline in the regional market surrounding Franklin, MA for the same period.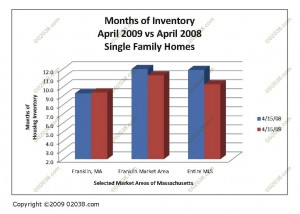 The chart above shows the supply of single family homes in the three MA markets tracked by this report: the entire Commonwealth of Massachusetts, the regional market around Franklin, MA and the Town of Franklin, Mass itself.
As illustrated by the chart, Franklin currently has 9.4 month supply of single family homes for sale, while the regional Franklin market carries 11.3 months' worth and the entire Commonwealth has 10.3 months of supply. 
Inventory levels are one indicator of the health and direction of nearly any real estate market.   So it is encouraging that inventories in the select Massachusetts markets followed by this report are generally trending lower!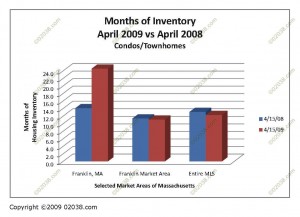 On the condominium side of the residential housing market, supply in Franklin, MA continued to balloon, rising 74.4% in April 2009 compared to April 2008.  Tellingly, inventory levels in the Franklin regional market and the overall MA condo market declined slightly in the same time period.
At a full two years of inventory of condo supply on hand, Franklin's condo market is decidedly burdened with excess supply.  The unhealthy lack of balance between condo supply and demand in Franklin can justly be attributed to the many new townhome construction projects in town.
A startling 61.7% (76 units) of the 123 condominiums and townhome units currently for sale in Franklin, MA are new construction offerings built on spec.
Please click here to see the full range of single family and condominium property for sale in Franklin, MA and surrounding towns.
Copyright ©2009 02038.com