Two closely followed economic reports released today contained what at first glance seem to be contradictory indications of the current state of the economy and MA real estate market. 
An upbeat statement issued this morning by the Consumer Confidence Board showed that consumer confidence reached 8 month highs in May 2009.
But almost simultaneously, Standard and Poor's released figures confirming that Massachusetts home prices fell 2% during March 2009, the most recent monthly data set available.
How could there be such a discrepancy in tone between economic reports released on the same day?
Poor MA Home Sale Stats May Be Misleading

The explanation lies in the nature of the data contained in the two reports: consumer confidence is a forward-looking economic indicator while home sale prices as reported by Standard and Poor's contain a two month lag and reflect sale agreements struck between buyers and sellers several weeks (if not months) prior to the actual real estate sale closings.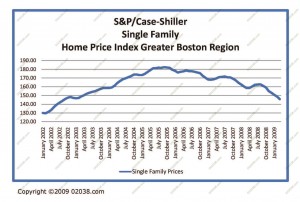 In figures released today, the S&P/Case-Shiller Home Price Index for Greater Boston showed a 2% decline in single family home values during the month of March 2009, compared to February's Index reading.  According to the Index, March 2009 Home prices were 8% lower than March 2008 levels.
Note however that these were March sales results released in late May.  And home sales recorded in March 2009 actually represent deals reached the previous January and February. 
January and February 2009 look now to have been the psychological  bottom of the current recession.  Doom and gloom news abounded with the Dow falling into the 6000s and seemingly no end in sight to the steep economic decline. 
An Improved Tone to the Market
What a change a few months can make!  May 2009's Consumer Confidence Index rose for the second month in a row and now stands at its highest reading since September 2008.  So people are feeling more confident about future economic prospects.
This improvement in expectations on the national level mirrors the current "feel" of the Massachusetts real estate market.  Recent weeks have been almost buoyant, with buyers flocking to open houses and even some bidding wars breaking out.
Too Early to Call a Bottom

It is way too early to safely call a bottom to the real estate market. 
It remains to be seen whether the increased buyer interest in homes will translates into more home sale volume and eventually higher home sale prices further down the road.
But do note that Massachusetts real estate agents generally are more active now and that may be the best, most reliable indicator of where the MA real estate market is headed in the coming months!
Copyright ©2009 02038.com