4.84% is the current national average for 30 year fixed rate mortgages according to the Federal Home Loan Mortgage Corporation (Freddie Mac) in a report released May 7, 2009. This was essentially the same rate as quoted by Freddie Mac for 30 year mortgages at the start of April 2009 (4.78%).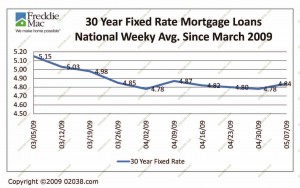 You may be hearing the phrase "historic lows" used frequently now when mortgage interest rates are discussed.  You may find it a bit hard to give meaning to that term or may be curious about what these low  rates may mean for you and your real estate investments.
The following chart will help put  'historically low mortgage rates'  into some context;  charting 35 + years of mortgage rate averages as tracked by Freddie Mac paints a striking picture: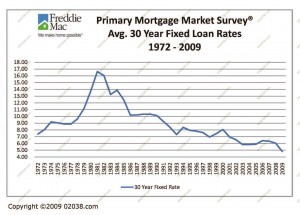 Just look at where 30 year fixed mortgage rates are in 2009 compared to any point over the last 3 decades! 
While the entire 2000s have been characterized by generally declining rates, today's levels have not been seen at any time since before the 1970s.
What this means in macroeconomic  terms is thankfully way beyond the scope of this blog.
How might Massachusetts real estate be impacted by today's amazingly low rates?
Low mortgage interest rates are the great enablers of the real estate market. 
Low rates give buyers more purchasing power which broadens the number of buyers who can buy a home and increases the prices all buyers can afford to pay.
In turn, stronger demand should help support both sale volume and MA home values.
•    If you don't own currently own a home, today's low rates coupled with the $8,000 credit for first time buyers may make this year a very smart time to make your move to a home for your own.  Click here to see homes for sale in Franklin MA and the regional market.
•    If you already own a home and are thinking of a change in the location, size or style of your residence, click here to get a Home Value Report on your current property's value. 
Whatever your situation, today's low interest rates should make it easier for you to achieve your housing goals!
Copyright ©2009 02038.com