Interest rates generally fall when the economy falters and rise when economic expectations turn bullish. 
With retail sales rising, the Fed announcing that the worst of recession may be past, and U.S. consumer confidence reaching a nine-month high in June, is it any wonder that mortgage interest rates rose over the last 2 weeks?
And the recent good news certainly caused a spike in rates!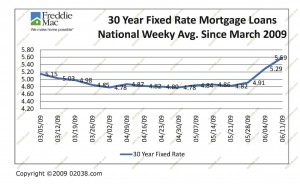 The average 30 year fixed rate mortgage jumped to 5.59% by the middle of June 2009 according to Freddie Mac.  This amounted to a 16% increase in the average interest rate for 30 year fixed rate mortgages in just over 2 weeks (from the 4.82% average rate recorded back on May 28).
But I think we'd all accept higher rates in return for better economic prospects (it's been over 3 months since we last heard serious talk of the dawning of a new economic depression).
Rates Remain Attractive
Today's higher mortgage rates can easily be put into context by taking a longer view of interest rates; looking back several years, you can see how low mortgage rates still are.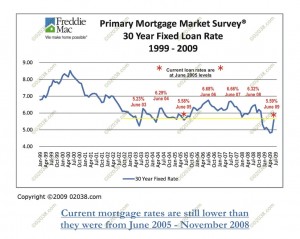 When viewed in context, you can see that rates are still very low.
Average rates for 30 year fixed rate mortgages were above 6% from the summer of 2005 until the fall of 2008.  So at roughly 5.6%, today's 30 year fixed rate mortgages are very attractive!
Explore Your Options
If you'd like to speak with an expert mortgage advisor, please ask me for a referral – I work with some of the best mortgage providers in Massachusetts!
Click here to see 1000s of homes for sale in the Route 495 region and click here if you'd like to get a Home Value Report on your home or investment property!
Copyright ©2009 02038.com