After peaking at nearly 5.6% on June 11, the average 30 year fixed mortgage rate as tracked by Freddie Mac dropped to 5.2% in the succeeding 4 weeks.  This 7% drop in rates roughly coincided with  weakness in US stock values and world oil prices over the same general time period.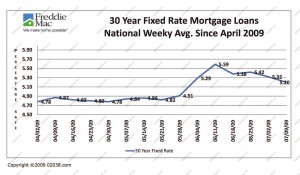 Mortgage interest rates appear primed for continued volatility this summer as businesses, financial experts and investors alike grope for a reliable sense of where the economy may be headed as the Obama stimulus plan begins to take effect.
The recent mortgage rate decline does make home purchases and mortgage refinancing a bit more attractive. 
Residential real estate prices in Greater Boston have risen slightly while activity has picked up in the Franklin, Massachusetts region over the past few months. 
REOs (post-foreclosure homes) in many regions of Massachusetts appear to be selling more quickly, so now may be an advantageous time for investors to grab a real estate bargain.
Click here to view homes and investment properties for sale in the Greater Franklin/Route 495 region of Massachusetts.
Copyright ©2009 02038.com