Single family home prices in Greater Boston rose 2.6% in June 2009, according to figures released today by Standard and Poor's.  June's 152.71 reading on the S&P/Case-Shiller Home Price Index for Boston marks the third straight month that Boston metro-area home prices have risen.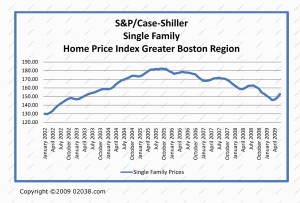 From 2009's market bottom last March (145.83 on the Index), single family home values in Greater Boston are up 4.7% as of June 2009. (June 2009 is the most recent month for which data is available from Standard and Poor's.)
For the first six months of the 2009, single family home prices in the greater Boston area have climbed 1.3% (from 150.73 on the Index in January).  That might not seem like much to cheer about, but please remember the widespread fears of an economic depression that were so prevalent earlier in the year.
To pour a bit of cold water on any celebration, however, I have to note that at 152.7 in June, 2009, the Boston Index is still 5.9% lower than its 162.31 reading back in June 2008.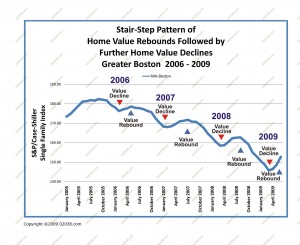 The big question for the next 6 to 12 months is whether we will successfully break the repeated stair-step pattern of partial home price rebounds followed by further home price declines that we in Massachusetts have been experiencing annually since 2006?
As this post is written in August 2009, another round of significant home value declines for Greater Boston in 2009 – 2010 appears unlikely. 
Given the building evidence that the national economy is stabilizing and consumer sentiment is rising, we may be at a real estate market bottom in Massachusetts.  If we are, we may see some up and down price "bumps" over the next 12 months in Massachusetts as the market finds and solidifies a bottom. 
Once a bottom is firmly established, sustained increases in MA home prices may be very possible over the next 3 to 5 years.  That's a prospect sure to encourage everyone who's lived through our painful real estate recession!
Copyright ©2009 02038.com