The supply of single family homes for sale in Massachusetts dropped 13.3% in August 2009 compared to year-ago levels.  This beneficial trend of lower home inventory has persisted for most of the 2009 and may herald an improved MA real estate market if it continues into 2010.
State-Wide Market
The overall MA market enjoyed to greatest inventory absorption in August 2009.  The supply of single family homes for sale in the Commonwealth dropped to 7.8 months of supply (from 9 months' worth the previous August).
Franklin Regional Market
The regional market surrounding Franklin, MA also saw inventory levels decline in August 2009.  The 8.8% inventory decline in the Franklin regional market (to 7.3 months of supply from 8 months last year) was more modest than the state-wide absorption rate.  But inventory absorption of any amount is good news after the heavily damaged real estate market we experienced in 2008.

Franklin, MA Homes for Sale
At 5.4 months, the supply of single family homes for sale in Franklin, MA itself remained unchanged during the month of August 2009 compared to August 2008. 
This relatively low level of single family home inventory indicates the enduring desirability of the Franklin, MA community.
Condominium Inventory

Inventory absorption in the Massachusetts condominium market appeared more muted in August 2009 compared to the single family homes, but the downward trend was evident.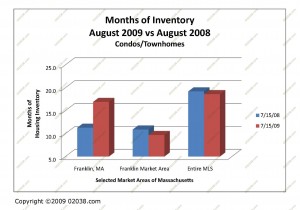 Inventory levels remained elevated in Franklin, a condition that has existed for quite some time now due all the new construction units that came into service at the same time in Franklin.
Copyright ©2009 02038.com