Home sales in Franklin, MA soared during the month of July 2009, posting the best results for the month since the boom year of 2004.  According to data maintained by MLSPIN, the multiple listing system serving most of the Commonwealth, 34 single family homes sold in Franklin, Massachusetts (population 31,000+) in July.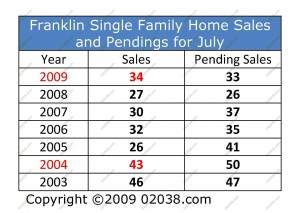 This easily exceeded the sales total for July 2008 and even surpassed July's results for the peak years of the market cycle back in 2005 and 2006.  So Franklin, MA real estate is looking good!
Other Signs of Strength

July's robust home sale activity is just one of several recent reports confirming a resurgent real estate market in Franklin, MA.  Home prices in the Greater Boston region have risen modestly over the last two months, lending further credence to speculation about a Massachusetts real estate bottom.
High-Low Franklin, MA Home Sales for July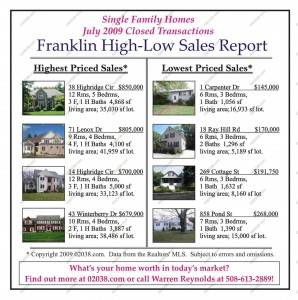 The two highest priced home sales in Franklin, MA for July 2009 each exceeded $800,000.  This represents the first time this year that more than one home in Franklin sold above that price point during any one month.
Lower-Priced Homes Draw Demand

The lower end of the price spectrum in Franklin continued to strengthen, buoyed by a three-pronged boost by low interest rates, the $8,000 first time buyer tax credit, and avid interest by investors.
Click here to view 1000s of homes for sale in Franklin, Massachusetts and the greater Route 495 region.
Copyright ©2009 02038.com