The S&P/Case-Shiller Home Price Index for Greater Boston has erased all of the declines it experienced in 2009 and is now higher than it was back in December 2008.   Standard and Poor's announced today that the Boston Case-Shiller Index rose 1.2% in July 2009 to stand at 154.53.  The Boston Index was at 153.05 last December.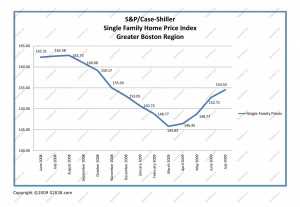 4 months of Metro Boston  home price increases
July's Boston Index reading marks the fourth straight month that Boston metro-area home values have risen.  How Massachusetts home sale prices perform over the next several months will tell whether the current rise in home sale prices is only a seasonal uptick or marks a true real estate market bottom in MA.
Boston real estate market one of 4 most healthy in US
On a 12 month basis, single family home values in Greater Boston are still down 4.9% according the Standard and Poor's.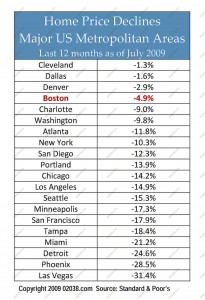 However, that 4.9% decline over the last 12 months ranks Greater Boston as the 4thmost healthy of all US regional markets tracked by Standard and Poor's.  Only Cleveland (-1.3%), Dallas (-1.6%) and Denver (-2.9%) have experienced smaller home value declines than Boston in the last 12 months.
 And compared to the large double-digit declines in home values seen over the last 12 months in many other metropolitan markets tracked by Standard and Poor's,  Greater Boston real estate almost seems healthy. 
The relatively benign decline of home values in Greater Boston over the last 12 months is consistent with a recent report that the Massachusetts economy is poised to rebound from the recession earlier than most other US states and published speculation that home values in MA may jump over 20% in the next 5 years.
Caution called for
There is still quite a lot of weakness in the national economy.  No one can predict the future with confidence so caution with home sale price predictions is certainly called for.
The following was noted by David M. Blitzer, Chairman of the Index Committee at Standard & Poor's in a press release accompanying the publication of the July Case-Shiller data:
"These figures continue to support an indication of stabilization in national real estate values, but we do need to be cautious in coming months to assess whether the housing market will weather the expiration of the Federal First-Time Buyer's Tax Credit in November, anticipated higher unemployment rates and a possible increase in foreclosures."
Copyright ©2009 02038.com