MA economy recovers quickly: Boston Globe
Massachusetts home prices stand to benefit as the surprising MA economy is recovering quickly from the national recession.  The Boston Sunday Globe announced today that "Massachusetts is poised to recover from the economic downturn sooner and faster than the nation as a whole . . ."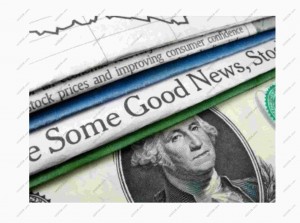 Prices of Massachusetts homes for sale to rise?
Prospective home buyers should not expect any significant declines in MA home prices in coming months. The risk for home buyers sitting on the sidelines would seem to be the potential for future home price increases.
The front page Globe article cited findings from economic analysts that "signs of an earlier recovery are already emerging in the state as employment losses slow to a crawl, leading sectors add jobs, and the housing market rebounds."
MA economy improving
The article contains a lot of useful insights into improving economic conditions in the Commonwealth and is very good reading.  You can access the whole Boston Sunday Globe article here.
Home sales rise
The Globe took a very positive stance regarding prospects for the MA real estate market:
"Home sales, adjusted for seasonal variations, have soared nearly 50 percent in the state since hitting bottom in January, compared with less than 20 percent nationally."
An interesting graphic accompanies the article.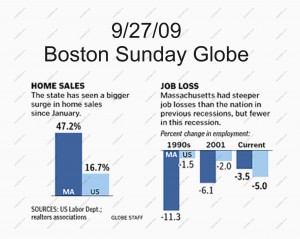 It shows the relative strength of both the MA jobs and housing markets compared to the nation as a whole.  It's very nice for Massachusetts to be on the stronger side of  the national economic divide!
Copyright ©2009 02038.com