Forbes.com has projected that metro-Boston home prices will rise over 20% in the next 5 years. This means that Boston home prices will recover almost all of the value lost in the recent real estate crash if the future unfolds as Forbes.com predicts.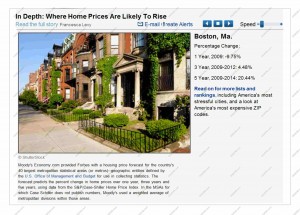 Bullish forecast

This bullish forecast for Massachusetts real estate was part of an in-depth analysis of major regional US real estate markets conducted by Forbes.com.  Forbes used data from the S&P/Case-Shiller Home Price Index, drawing on the same data used in my recent video report on the high likelihood of a real estate rebound in MA.
MLS data supports stronger market forecast
A look at homes for sale data from  MLSPIN (the dominate MLS in Massachusetts) confirms that the MA real estate market is indeed looking better.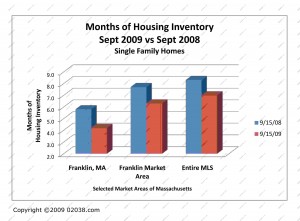 Inventories of single family homes for sale in MA dropped in September 2009 in all three MA markets tracked by this blog.
A decline in home for sale inventory is good news for real estate because it indicates that demand is catching up with supply.  When demand for homes "absorbs" excess inventory, home prices typically begin to rise.
Home prices have been inching higher recently in Massachusetts: the S&P/Case-Shiller Home Price Index for Boston has risen 3 months in a row.
Single family home inventories decline
Of the three Massachusetts markets followed by this blog, Franklin, MA saw the most pronounced absorption of single family homes for sale in September 2009. 
The inventory of Franklin, MA single family homes for sale dropped to 4.2 months of supply in September 2009 (from 5.8 months in September 2008).
It was the same story on a lesser scale in the Franklin regional market and the overall market in Massachusetts: each saw single family homes for sale inventories drop from year ago levels. 
There were 6.3 months' worth of single family homes for sale in the regional market surrounding Franklin, MA in September 2009 (compared to the 7.7 months of supply a year ago).  Single family homes for sale inventory in all of Massachusetts dropped to 7 months of supply according to data from the MLS (versus 8.3 months of supply in September 2008).
Less bullish news for the Franklin condo market
The supply of condominiums for sale in all of Massachusetts declined in September 2009.  This is consistent with the improving picture seen in the single family housing market in Massachusetts.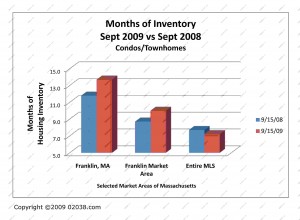 There were 7.7 months of condo inventory in the overall MA market in September 2009 compared to 7.7 months this time last year. 
However, the Franklin, MA condominium market remains saddled with excess inventory.
The Franklin market has struggled to digest the new inventory that continues to come in line from all the new construction condo projects in town.  The regional market surrounding Franklin likewise saw inventories rise in September 2009.
Copyright ©2009 02038.com