At 5.07 percent, the national average rate for 30-year-fixed-rate mortgage loans is at its lowest point since early June 2009. Last year at this time, the national average rate for 30-year fixed-rate loans was 5.93 percent, according to figures maintained by Freddie Mac.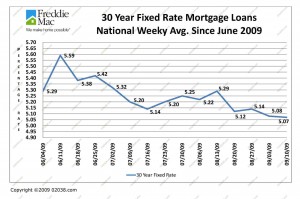 The decline is pushing many homeowners to refinance their mortgage loans.
"Mortgage rates remained historically low over the past two weeks, keeping housing very affordable," said Frank Nothaft, Freddie Mac vice president and chief economist on September 10. "As a result, mortgage applications leapt 17 percent over the week ending September 4, led by a 23 percent jump in refinancing demand, according to the Mortgage Bankers Association. In fact, nearly three out of five applications were for refinancing current loans."
If you're interested in refinancing, please let me know. I can put you in touch with some very good local mortgage loan experts who will advise you on your refinancing options.
Click here to see 1000s of homes and investment properties for sale in the greater Route 495 region.
Copyright ©2009 02038.com