The Massachusetts real estate market got some very good news this week. Freddie Mac announced Thursday that the average interest rate for 30-year-fixed-rate mortgage loans has fallen to near-record lows. Average interest rates for other mortgage loan products also sit at or near all-time lows according to figures released by Freddie Mac.
13% decline from May's highs
30-year-fixed mortgage rates averaged 4.87% in the latest Freddie Mac survey, down nearly 13% from the recent 5.59% high set last June.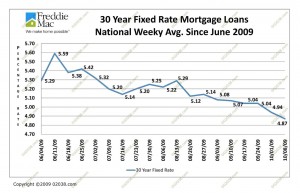 30 year rates near record lows
The current average rate for 30-year-fixed-rate mortgage loans is close to the all-time low of 4.81% reached in April 2009. This makes homes for sale in Massachusetts more affordable and helps bolster the overall MA real estate market.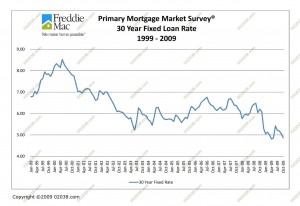 Effect on market
Freddie Mac vice president and chief economist Frank Nothaft made the following comment about the effect the rate decline is having on the market:
"Such low rates are spurring mortgage demand. Mortgage applications surged to a 19-week high over the week ending on October 2nd, according to the Mortgage Bankers Association. Moreover, applications for home purchases were at the strongest pace since the beginning of this year."
What this means for Massachusetts home buyers
Today's low rates combined with lower home prices make a compelling reason for home buyers to act now. Smart home buyers know that the best time to buy a home in Massachusetts is late October through December when so many other prospective purchasers are focusing their time on the upcoming Holiday season.
Click here to view a helpful video on how to know what to offer on a home for sale in Massachusetts.
You can view 100s of homes for sale in the Route 495 region here.
Copyright ©2009 02038.com