A local family has just completed the complete overhaul of a home in Franklin, MA they now have listed with me for sale.  They have truly done the Franklin community a great service in transforming what was a neglected, rundown property into a showcase ranch in a great downtown Franklin location.
Post card mailer versus YouTube video
I tried an interesting mix of traditional and cutting-edge marketing for this listing. 
Here's the front of a "Just Listed" post card I snail-mailed to the neighborhood.
The post card uses an original photograph I took of the statue of Ben Franklin at the Franklin Town Library.  The Library is just steps away from the home for sale.
This mailer pulled a lot of locals to the open house I held last Sunday.
But the YouTube video I created proved very effective because it enabled me to highlight the strengths of the home's superb location in town:
What a transformation!
The magnitude of the improvements to this home becomes apparent when you look at some "Before" and "After" photos: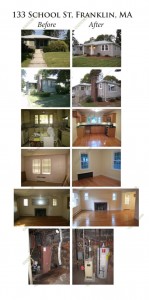 It's astonishing what these investors did with the property.  My clients' renovation work is high quality and the finished product is now a very stylish, modern home!
Investment opportunity?
My clients are seeking investors to participate in future rehab ventures.
So if you've been thinking of getting into real estate investing, but have held back because you didn't know where to start or lack the background to undertake your own project right off the bat, you may want to contact me for more information. 
The fit would have to be right, but you never know where that real estate investment opportunity inquiry might take you!

Copyright ©2009 02038.com