The S&P/Case-Shiller Home Price Index for Boston took a breather in September, 2009, the Index's most recent reporting period. The September Index slipped 0.2%, settling at 155.62.  This broke five consecutive months of strong gains in Greater Boston home prices in 2009.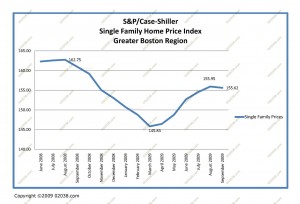 MA home prices well above March lows
Despite September's price lull, Metro-Boston single family home values remain a solid 6.7% higher than the 145.83 Index bottom seen last March, according to Standard and Poor's.
Massachusetts home sale volume up
More upbeat news was published this week in a separate report issued by The Warren Group, a Massachusetts company with over 135 years experience in tracking the New England real estate market.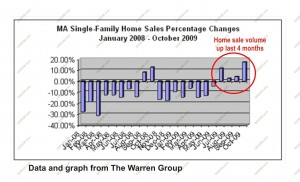 Sales of single family homes in Massachusetts soared 17.2% in October 2009 compared to October of last year, according to the report. 
October marked the fourth consecutive month of rising Massachusetts home sales.
"The tax credit that's being offered to home buyers has certainly stimulated home sales. And while unemployment is still a concern, I think that people who have jobs are probably feeling a little bit more optimistic about the financial markets and the overall economy and they're more willing to go out and make big purchases like buying a home," said Timothy Warren Jr., CEO of The Warren Group.
Copyright ©2009 02038.com