The average interest rate charged for 30 year fixed-rate mortgages in the US slipped below 5% again in mid-November.  The easy money policies adopted by the Federal Reserve are continuing to keep US interest rates abnormally low.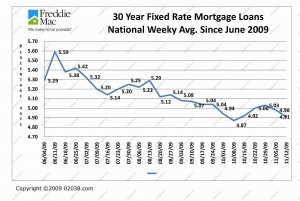 Low rates stimulate economic growth and help home sales
America's fiscal policy makers want low interest rates to help the economy regain solid footing and resume employment growth.   
Today's low rates may remain in place for the next 12 months or perhaps even longer.
Attractive loan rates and the government's Home Buyer Tax Credits should combine to increase home sales and help Massachusetts home prices head higher.

Copyright ©2009 02038.com