Congress has enacted a remarkable new $6,500 home purchase tax credit available to most homeowners for the next 6 months.  Dubbed the Homebuyer Tax Credit, this incentive seems destined to strongly spur home sales before it expires April 30, 2010.  Prospective Massachusetts (MA) home sellers should take careful note of the profound benefits of this short-lived tax credit and speed up putting their homes on the market accordingly.
Double benefit for most home sellers who want to buy another home
Because it's open to most homebuyers regardless of whether they already own a home, the new tax credit creates a strong incentive for current homeowners to sell their existing homes and acquire new housing before the tax credit expires.   Home sales in MA seem likely to increase in response to the real estate market subsidy created by Congress.
The law works to effectively double the $6,500 tax credit for each combined home sale and purchase.  There's $13,000 of new Federal money subsidizing each combined home sale and purchase.  And it's available for all types of home sales, not just the sale of properties to first time home buyers.
Home sellers get the double boost of not only having their home sale buoyed by the $6,500 tax credit to the buyers of their home.  They also get the benefit of another $6,500 of Federal subsidy money paid directly to them as a tax credit when they purchase their new home.
More home buyers and more homes to chose from
If you've been thinking of selling your current home in Massachusetts, you may want to seriously consider putting your home up for sale soon.  The MA real estate market should strengthen in coming months as home sales increase.  Massachusetts home prices may also continue to go up.
The combined $13,000 of government money greatly improves the financial underpinnings of each qualified home sale and purchase. 
This should bring a lot more buyers into the market in the next few months, so you should have more buyers competing for your home.  And you'll likely have an increased supply of trade-up and trade-down homes available to you for purchase as well.
The new Homebuyer Tax Credit expires April 30, 2010.  You'll have until June 30, 2010 to actually close on the transaction, so long as you sign a binding contract of sale (Purchase and Sale Agreement in Massachusetts) by April 30.  
First-time home buyer tax credit extended
In creating the new Homebuyer Tax Credit, Congress also extended the life of the original first time homebuyer credit.  That $8,000 credit for first time home buyers now will expire April 30, 2010, with the same June 30, 2010 deadline for closing.
Lots of fine print
As with all tax laws, there are quite a lot of rules governing who is qualified for each tax credit.  Here's a helpful download explaining the ins and outs of the two tax credit regimes: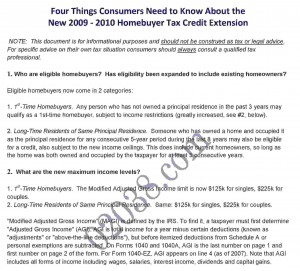 More information
Click here to access additional information about the Homebuyer Tax Credit and the First Time Homebuyer Tax Credit.
Massachusetts home owners should act soon to take advantage of these valuable, short-term subsidies the Federal government has created to increase home sales and raise home prices.  Now's the time to start your MA home sale; contact Warren to get a free, no-obligation Home Value Report! 

Copyright ©2009 02038.com