There was an early Christmas present delivered today for Massachusetts homeowners: an influential real estate trade publication reported that MA home sale volume jumped over 50 percent in November 2009 compared to year-ago levels.  This is very bullish news for the MA housing market as we get ready for 2010.
Home sales near boom levels
The report by Banker & Tradesman cited a 59.1 percent increase in November single family home sales in Massachusetts to 4,136, noting that this was the highest number of sales in any November in the state since the boom year of 2005.
At the same time, Banker & Tradesman said condominium sales in Massachusetts increased 54 percent to 1,840 from 1,195 in November 2008.
Supply of Massachusetts homes for sale falls
The startling surge in sale volume is causing inventories of available homes in Massachusetts to drop to very low levels.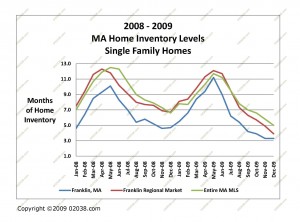 Low supply of homes bullish for home prices
A low standing supply of homes for sale typically sets the stage for firmer home prices moving forward.
Franklin, MA currently enjoys a miniscule 3.3 months of supply of single family homes for sale, compared to 4.7 months of inventory last December.
The regional market surrounding Franklin also boasts a short supply of available single family homes this December, maintaining only 3.9 months of inventory.
The picture for the overall MA market also shows marked improvement over 2008: there is currently only a 5 month supply of single family homes for sale on the entire MA MLS, compared to 6.6 months in December 2008.
Real estate market strength unexpected by experts
In reviewing the November surge in MA home sales, Timothy M. Warren Jr, the CEO of the publisher of Banker & Tradesman, had this to say:
"The gain in home sales during the month of November isn't completely unexpected. There was a lot of financial turmoil last fall that led to a plunge in home sales in November 2008 and subsequent months, so we expected homes sales to climb a bit. However, the jump was even sharper that we thought it would be. We suspect that many buyers felt pressure to take advantage of the homebuyer tax credit before it was due to expire."
Low interest rates are also helping spur housing demand, as I stressed in a recent post describing recent strength in the local housing market.

Copyright ©2009 02038.com